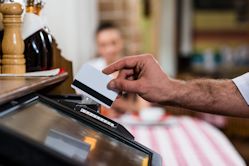 Fraudsters often target small firms, sensing the opportunity to net a bigger haul from a business than they could extract from a person. Company fraud has cost UK SMEs nearly £8bn and 286,000 small businesses have been affected. Yet, the type of fraud to which small businesses are falling victim – card, cheque and identity fraud – is common. So, how you could avoid becoming the next victim of fraud?
1 Don't accept cheque overpayment
Cheques are not as widely used as they once were. But customers may use a cheque to 'overpay' you for goods or services and then expect payment for the difference. Do this and you're giving out money that isn't owed and there's a risk the cheque will bounce.
2 Be mindful of credit fraud
A business customer may ask for credit, although they are bankrupt and are trading illegally. This customer can set up again with the same directors as a 'phoenix company' that is not liable for the loss of their previous business – meaning you won't be repaid for the credit you gave.
3 Know who you are in business with
A company's circumstances can change and a once reliable customer or supplier, who paid or delivered on time, may run into financial difficulties. Monitor your customers' and suppliers' credit performance, so their financial issues don't become your problem.
4 Don't take on new customers and suppliers without running a status check
Is the business real? Confirm the address and building from which the business is trading; call the phone number that is registered to the company, and even ask for a reference from another company to ensure the business exists and pays its bills.
5 Treat businesses alike – home and away
When trading internationally, use the same checks as you would for UK customers. Set up access to an international credit report, learn about a company's credit history and set appropriate payment terms and credit limits.
6 Use credit checking as standard
By credit checking a business you know whether it's at risk of going bankrupt, so you don't lose out doing work that will never get paid for or on goods or services that will never be delivered to you.
7 Know all about you
Use a tool that gives you real-time alerts as to when your credit file is searched or when there is a significant change to your credit report. Changes could be a sign of attempted fraud, so an early-warning system is crucial because it allows you to rectify matters.
Copyright © 2015 Ade Potts, managing director of Experian's SME Business. Follow Experian @ExperianSME_UK.