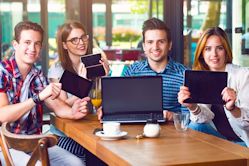 If your business has unwanted technology and gadgets to get rid of, there's a new option for you to try: you can now trade them in at Argos stores
The retail giant claims this is the first initiative of its type offered by a generalist UK retailer. And it says it'll give you on the spot quotes for your old tablets and smart phones.
If you're happy with what they offer, you can have the amount credited to an Argos gift card, which you can then spend on anything in the company's famous catalogue.
Part of the circular economy
Argos, in partnership with circular economy experts WRAP, has introduced the new service at all its 788 UK stores.
The programme aims to give customers an easy way to realise the value of unwanted gadgets, while also helping the high street store to build customer loyalty and brand value.
This new service is the result of the EU Life+ funded REBus project which, led by WRAP, helps companies implement resource-efficient business models. It's all about the circular economy, where products, and their materials, stay in use for longer.
WRAP's research estimates that UK householders have unused electrical equipment worth around £1bn. That's a huge number of gadgets and appliances sitting idle, so it's no surprise that two-thirds of people surveyed said they'd be willing to trade in tech products with reputable retailers.
What happens to your gadgets?
Gadgets traded in at Argos are sent away and securely wiped. They then get refurbished and resold.
"As a leading technology retailer we know that our customers are looking for solutions to responsibly dispose of unwanted gadgets when they replace or trade-up devices," explains Amy Whidburn, head of corporate responsibility at Argos.
"Depending on the response from customers, we may extend the scheme to include other electrical items in the future, such as camera, sat-navs or laptops."
The scheme could be a convenient way to make use of any abandoned gadgets in your business. What's lurking in your drawers and cupboards?