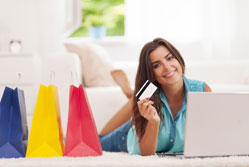 The ubiquity, democracy and power of the internet has enabled millions of people across the globe to enter the ecommerce marketplace, either as a consumer or a retailer. However, accessibility doesn't guarantee success and competition has never been so tough, so here are five top tips to give your ecommerce site the best possible chance of success.
1 Competitive pricing
Consumers are smart; consumers are savvy. More so every day. The average customer is capable of comparing prices online in very little time and stats show there is very little brand loyalty. The products you have listed on your site must be competitively priced in order to compete with other ecommerce sites. Unless you are selling a unique product, this should be a priority.
2 Usability
People expect an easy-to-navigate, mobile-friendly site in order to purchase their products. The key word here is expect. Online customers are presented with a plethora of consumer engaging sites that utilise call-to-action buttons, SEO-friendly content and tactically placed advertisements, none of which take away from the overall usability of the site. Quick, convenient and aesthetically pleasing should be your principle boxes to tick.
3 Profit
This is an obvious priority, but an interesting insight. Most products on the high street are priced between 70-80% above their production or purchase costs. This varies between product and marketplace, but ecommerce, as a general rule, is no different. Without the need to store products or pay for distribution (unless you do intend to do this), your costs are automatically lower. Understanding exactly what your costs are, your margins and thus your profit (creating a proper business plan helps crystalise this) is maximised. Every penny counts.
4 Technology
Unlike a shop, where the customer's experience is determined by the store aesthetics and shop staff, convenience and neutrality win the day in ecommerce. An essential aspect of this is quick loading times and engaging call-to-action buttons. A customer will lose interest quickly in your site if the page loading times are long. Customers expect a speedy website that isn't slowed down by dated tech. Time is money.
5 The customer is always right
The customer is always right and engaging with them, either with complaints or requests for further information, is absolutely crucial. Don't leave them hanging on. Angry customers can easily spread bad reviews and negative comments online that dissuade potential customers. Remaining professional and friendly in the public's eye will control those negative reviews. Even bad can be spun positively if you deal with it quickly, efficiently and solve their problem or answer their query.
Copyright © 2015 Richard Heasman, journalist and content writer for ParcelHero, responsible for blogs, landing page content and news. Follow him on Twitter @parcelhero