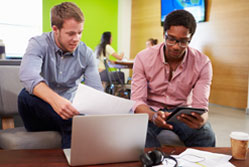 If you've decided to pay to have a website built for your business, it's important to choose an agency that will listen to your needs, involve you in the planning and then produce a website that exceeds your expectations and attracts new customers. You'll be entrusting them with your brand, so you must choose a professional and well-established team.
It can be quite overwhelming selecting which agency to use, because there are so many to choose from. However, here are six key questions you need to ask prospective suppliers.
1 How much will it cost?
A good agency will discuss your exact requirements before sending you a written proposal with a quote for the work and an outline of what's included. Ideally the proposal will be sent with terms and conditions.
You should fully understand what is and isn't included before you make any payments or agreements. Check the following:
Which platform will the web agency use or will it be a bespoke design?
How many pages will your website have?
Will the site be mobile responsive (ie will it still function well and look good on mobile devices)?
Does the quote include all the functions that you specifically require?
Will the agency provide content management system training to ensure that you can access the backend of your site and manage your website yourself after the launch? What are their costs for additional training? What are their costs for ongoing web maintenance or support?
What is the process if you want to make any changes to the brief before your site is launched? What are the charges if you want to make any changes after the launch?
Will they ensure that your site is fully search engine optimised?
Does the proposal include the registration of a domain name and web hosting? If not, what are the additional fees for this?
2 What about content and images?
It's likely that you'll be required to supply all content and images for your website, however a professional agency will be able to help with content or buying stock images if required. You should talk to them about this during the initial discussions to ensure that they include it in the proposal.
3 Have you got a portfolio?
A well-established agency should have an impressive website that includes a portfolio of their projects. Check out other websites they've created to get a better idea about the quality of their work.
4 Do you have testimonials?
Most creative agencies will have testimonials on their website and they may even feature on review sites. Read these. You could even ask if it's possible to speak to a previous client to ask about their experiences.
5 How long will it take to create my new website?
You need to ask how long it will take for the design and build process, because you must ensure this is in line with your needs. Any time frames given will depend largely on your cooperation with regards to discussing design and functionality, as well as your supplying photos and content when required. The web designer may need to contact you during the development stage, so it's essential that you provide feedback promptly to avoid delays with launch.
6 What are my first impressions?
You should trust your instincts and think about your first impressions of the agency. Bear in mind that you may be working with them for many weeks during the website design and build process, and possibly many months and years afterwards if they assist you with ongoing web maintenance and development. So, you'll need to have a good working relationship with them. Here are some questions that you should ask yourself:
What do you think about their website? Does it communicate the right messages?
Did they respond professionally and promptly to your initial enquiry?
What were your first impressions when you spoke to them?
Have they listened to your requirements? Do they understand what you want?
Have you established a good rapport with them?
Will you be able to work with them over a period of time?
Copyright © 2015 Allie Astell, managing director of Manage My Website. Follow Manage My Website on Twitter and Facebook.