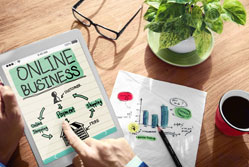 The world of ecommerce is extremely lucrative and its growth is showing no sign of slowing. In fact, online shopping is set to double in value over the next three years alone. And it's not just the large retailers that can cash in on its popularity, there's huge potential for small businesses, too.
However, there are still many small firms that are yet to venture online, finding the prospect of entering a new space too daunting, or lacking the resources to launch their own ecommerce enterprise. But with competition rife in the retail market, sitting back is no longer an option and small businesses must start taking their first steps or risk losing further revenue as more consumers go digital.
Proper planning
There are many aspects to launching an ecommerce business – it's not just a case of setting up a website, adding some products and going live. If SMEs want to better secure the success of their online efforts, a clear business plan must be in place right from the start.
Creating this solid structure will enable you to refine your strategy for launching to a digital audience – many of whom will be very different to typical in-store shoppers. For example, online customers are not limited to the local area, they can come from anywhere in the country (or even overseas). Once this is finalised, you can then get started on the exciting bit – producing the website.
Launching a website
The great thing about launching a website is the almost unlimited number of features and functions that can be added. However, be warned. Experimenting with too much too soon could mean you can't maintain a high level of customer service.
Start simple, to get it right. Outline what your website needs to do right now and implement that to begin with, you can always add more features later.
Don't forget to think how the site will look on a mobile device. This is extremely important to today's consumer, so consider a mobile optimised or responsive design.
Agency or DIY?
It can be very tempting to take a do-it-yourself approach to building a website. It can be cheaper and offers total control. However, it's important to consider how time-consuming it will be, along with the extra strain it can put on resources.
Partnering with a professional design agency will likely provide a slicker look and finish, while allowing small firms to draw on external expertise and have ongoing support when required.
So, just as consumer behaviour changes, so must small retailers, as they seek to provide shoppers with the means to browse and buy however they choose.
Copyright © 2015 Gareth Poppleton, managing director of Retail Merchant Services (which you can follow on Twitter @RMSCardPayments).