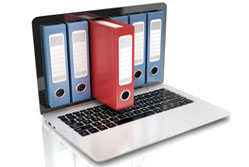 Nobody likes dealing with paperwork. That's especially true when you've just started a business and there are a hundred and one other things to do.
Document management is likely to be the least of your concerns, but if it isn't done properly it could cause numerous problems for your business further down the line.
Now is the time to get the planning right and put in place best practice processes that will support your company's growth. So, why is electronic records management so important for your start-up business?
1 It's highly efficient
Having a good electronic records management (ERM) system will improve both internal efficiency and your overall business competiveness. There's nothing more distracting or frustrating than having piles of paper documents and files lying around.
And not being able to find what you need could ultimately prove harmful. Having an ERM system will ensure records aren't lost, and help you get any information or data you need quickly and reliably.
2 It's cost effective
Saving money wherever possible is key for any start-up, and storing documents electronically is a cost-effective way to manage all your records.
Manual document management is a time-consuming back office process and you'd be much better placed freeing up internal resources and costly staff time. Reallocate them instead to more important and productive tasks that will help strengthen and build your business.
There are also costs associated with physical storage - particularly as a fast-growing business you will probably generate many files. Switching to digital storage will allow you to manage your expansion cost effectively.
3 It supports good compliance practices
The type of industry or jurisdiction in which your business is operating will dictate regulations with which you need to comply when it comes to document and data storage. Legacy files may need to be kept for a certain numbers of years, and you might need to show that certain procedures were followed and sensitive information stored correctly. Electronic records management takes the worry out of compliance. It can even be set up to ensure records are destroyed in a secure and timely manner when you no longer need them.
4 It protects your business
Finally, an ERM system is the safest way to store documents and files. There have been numerous high-profile data breaches in recent years, and your business needs to protect sensitive financial information and trusted customer details with a secure system. It also has the added value of providing an offsite backup, in case of a disaster that could destroy both physical and electronic files at your premises.
Electronic records management is a vital asset for the administrative function of any business, large or small. If you haven't got a process yet, it makes good business sense to set one up as soon as possible.
Copyright © 2015 Sheelagh Carroll, head of commercial for UK-based digital documentation management provider Kefron.