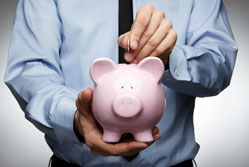 You probably have big plans for your start-up, with an ambitious vision for the next five years. But ideas require investment in order to become actionable. So, how do you save enough cash to turn your dreams into a reality? Here are three ways to save money for your start-up.
1 Budgeting
Do you know how much you're able to spend or do you normally play it by ear? Having a realistic budget in place is essential for saving money for your start-up.
Without a budget, you could be spending far more than your turnover allows. For example, if in one month you spend £1,000 on office chairs, but only sell goods to the value of £500, you'll be making a loss (unless you've had significantly higher sales in previous months). You need to ensure your expenses make good business sense, staying well within the realms of your revenue so that you're making a profit each month.
Your budget needs to align with your business strategy and objectives, in which you'll specify how much profit you can expect to make and how you intend to invest back into your business.
2 Effective bookkeeping
To be able to save money, you need an effective bookkeeping system. This will allow you to keep track of the money coming in and out of your business, and anticipate future incomings and outgoings.
Good bookkeeping prevents you from overspending, and then facing outgoings you weren't prepared for. So, before you go and order new supplies, you'll be able to see how much you already owe suppliers and the taxman that month, what payments you're expecting, and limit your spending accordingly.
Not only does effective bookkeeping help you to spend realistically, but it also helps you keep on top of payments you're due to receive. Forgetting about invoices you've sent out could mean you miss out on prompt payments, which could leave you unnecessarily high and dry.
3 Negotiating skills
After a while, you're bound to find yourself dealing with the same suppliers on a regular basis. But rather than continuing at the same rates, you need to think about negotiating discounts with regular suppliers to get better value for money. You'll often find that suppliers would rather maintain regular business with you at a lower rate, than lose you altogether.
When you build long-term working relationships with suppliers, you should also think about asking for longer payment periods in particularly difficult months, which could be hugely beneficial to your cash flow.
These points and others will be covered in more depth during an upcoming free webinar that will take place on 10 September at 2pm. Get more information here.
Copyright © Babington Group, a "training provider offering a range of courses, from accounting qualifications to leadership programmes". Follow @Babington_Ltd on Twitter.