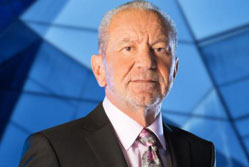 If you met some of the latest bunch of candidates on the new series of The Apprentice – say at a networking event or a job interview – you'd be forgiven for running a mile.
"I'm disgustingly ambitious" says Elle with a sneer. "I'm the captain at the front of a cavalry," says Richard. Joseph says he wants the cars, the girls and the power. And, to the sound of deafening alarm bells, Dan says he has made every mistake in the book with his business, including almost losing his parents' pension.
But this is classic Apprentice. Nothing much has changed. And, anyway, Lord Sugar and his henchfolk, Claude Littner and Baroness "call me Karren" Brady, don't give two hoots about this kind of talk. Actions speak louder than words, as Lord Sugar says himself.
And so we have the first task. It is, as one of the candidates astutely says in the boardroom, a "margins" task. Not that you'd know it from the way the two teams run at it like bulls in a china shop.
The day starts bright and early at Billingsgate market where the candidates have to buy fish to make two dishes and then sell them to the lunch crowd in London's Camden Lock and the City.
Both teams look pretty incompetent but Connexus (Latin for unite apparently) just keeps making one mistake after another. Dishes are selected with no apparent regard for potential profit. Team leader April won't even discuss it — they're making tuna nicoise and fishcakes and that's that. There's no discussion, no number-crunching, no analysis of what people actually want to eat.
And, for a food blog writer, April really doesn't have her finger on the culinary pulse. What about a fish taco or an asian fish curry? Something that's cheap to make and which will sell all day long.
But this is just the start of their problems. At the market, April completely fails to negotiate; she just buys from the very first person she meets. Mind you, team Versatile's approach to shopping around results in their stocking up on some seriously iffy squid. When it comes to food, there is such a thing as a false economy.
April's team, which includes the hapless Dan, then proceeds to stuff up the preparation. Instead of making 300 fishcakes - upon which their profits projections are undoubtedly based – they only manage to knock up 89. But April is not deterred. She plans to charge crazy prices; that is if they ever get to their destination. Missing the lunch-hour rush is yet another rookie mistake.
Out in the field, Dan sells precisely nothing. April, meanwhile, is still insisting on charging astronomic prices. The rest of the team only sell anything by totally ignoring her price points.
Back in the boardroom, the results speak for themselves. Team Versatile, with its calamari and fish finger sandwiches, has made a not-too-shabby £200 profit. Team Connexus has made £1.87. Yikes…
April selects "desperate Dan" and sous-chef Brett to face the firing line with her. Lord Sugar clearly wants to sack April and tells her so but Dan's performance is just so bad - he says he can't sell to the public as if that's just a small detail - and so it's goodbye Dan as he mutters "thanks for the opportunity" less than graciously.
Meanwhile, all eyes are on Claude this week. He is the man for whom the phrase "if looks could kill" was invented. And yet even he appears to looks proud when it emerges that his team did something right. It's almost a Bake Off moment.
And so begins another series of the show that buries its business lessons fairly deeply as a shower of wannabe's run around making fools of themselves. That said, I'll probably be watching next week.
Copyright © 2015 Rachel Miller, editor of Marketing Donut.