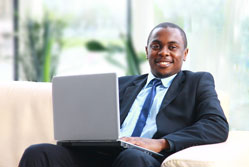 When setting up your new business, there will be a number of responsibilities and paperwork to take care of if you are to get off to the best possible start.
Tax can be complicated and just learning some of the basics can take up many hours of your precious time. Some start-ups try to do their own accounts, others pay a high street accountant to look after their books, returns and associated admin, but this can be expensive for a new business.
Another solution is to use an online fixed-fee accountant. There are no hidden costs and usually you have your own dedicated contact, so help is always at hand. Business owners can easily find out about their revenue, cash flow, payroll or invoices and manage their financial information from a secure online portal. Some online accounting services will even set up your business for you, just to make things even easier.
So, why else should you choose an online accountant?
1 Easy to use
Online accounting software is easy to learn and use, making it a time-effective way to keep your accounts up to date with just a few regular data entries. Business owners usually need to provide information from bank statements, expenses and invoices. There is no need to worry about or understand advanced accounting concepts, just enter the relevant data and let the software do the rest.
2 Direct invoicing
Creating invoices through an online accounting offering saves time and prevents losses caused by human error. You can send invoices direct to your clients, monitor your invoices and be alerted when invoices are overdue.
3 Cost
Online accounting software is a cost-effective option for any business. If you are a start-up on a tight budget, hiring an accountant can be more expensive. Online accounting software usually comes at a fixed monthly cost, so you know what you are expected to pay and only have to pay a small monthly fee, instead of one larger lump sum.
4 Payroll and cash flow
Online accounting software makes it easy to fill out employer forms and manage your cash flow, cutting down on paperwork and save your business money. Additionally, you can view forecasts for profit and loss and cash flow, which can help when you're making important decisions or planning ahead.
5 Accuracy
Simple calculation mistakes can lead to big problems. Online accounting software can prevent such errors by helping you to track trends and financial information far better than if you try to go it alone. This could also help you to discover new opportunities to improve your revenue, because online accounting software builds up a detailed picture of your business's financial wellbeing.
6 Productivity
Paperwork can be boring and time-consuming, causing employees and business owners to get distracted and become less productive. Online accounting software is a more efficient option than filling out paperwork because the system is automated, so half the work is already done.
7 Flexibility
The beauty of online accounting software is the flexibility it gives to run your business from work, home or on the go. You have an up-to-date picture of how your business is doing, no matter where you are. Software updates can be developed and delivered so you will get access to new features instantly. You can run your business remotely, from anywhere in the world with online accounting software. And when information is fluid and accessible, the possibilities are endless.
Copyright © 2015 Rachel Smith, technical writer at Nixon Williams's Vantage Online Accounting.