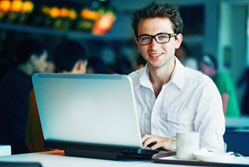 Exactly a year ago, I took the plunge and decided to become an internet freelancer, helping people grow their business online. Going out into the big wide world was daunting at first and there were some ups and downs.
But now I've got to a point where I am an established freelancer, working with reputable companies such as Groupon, Xexec and Call Wiser. Here are my top tips based on what I have learned so far:
Position yourself as a freelancer with expertise
It's important that the people closest to you such as friends and family know what you do, because they are going to be the ones most likely to recommend you to potential clients.
Start by posting regularly about your expertise on Linkedin and Facebook. Share posts about your industry, write blog posts or get an interview with the local press and share it. Soon, people will start associating you with that particular skill, such as PPC or SEO, and they will recommend you to others looking for that service.
Make introductions
As a freelancer, you need to ensure that you are constantly getting work. Without a regular monthly salary, you need to keep busy. Making connections with others in your industry is key.
Initially, I got in touch with dozens of agencies and freelancers and arranged meetings with a few who were interested. Eventually, I had a strong relationship with a few companies who regularly referred me work and continue to do so.
Stick with the nicest clients
Clients come in all shapes and sizes. Some will squeeze every penny out of you, have huge expectations and expect you to overwork. Other clients will treat you respectfully and value your expertise and these are the clients you want to keep.
There is nothing wrong with turning down work from demanding clients even though it pays the bills. It is better to focus on those clients that treat you well and pay you on time. Overall, you will be more motivated and happier with your work.
Use office space effectively
There is really no need to pay too much for office space as a freelancer. By avoiding commuting and office costs, you can simply keep more money for yourself.
If you don't have space at home, it's likely that friends or family have a spare room where you can work. Or perhaps someone you know has a spare desk in their office that you can use one day a week. And of course, every high street has cafes such as Starbucks that offer a place to work and free wi-fi.
Have a back-up plan
Having a back-up plan as a freelancer is important because you never know if the work could dry up for a while. This is common during the summer months or the Christmas break where people take more time off work or don't want to commit until the busier season.
So having a plan B is essential, whether it's a side project that you are working on and can devote more time to during slower periods, or giving lessons to people on your expertise, either in person or through online portals like Udemy.
There are also freelancing platforms like Elance where you can potentially pick up work at short notice. Above all, being busy is key to being a successful freelancer.
Copyright © 2015 Daniel Tannenbaum. Daniel works in London as a freelancer in SEO, PPC and digital marketing under Tudor Lodge Consultants.