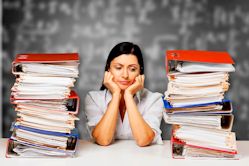 Efficiency and effective organisation are paramount for start-ups and entrepreneurs with limited resources. How can you grow your business and enhance your offer when all of your time is taken up by business as usual? The answer lies in successfully managing your workflow, and here are a few practical ways to do just that.
Capture your tasks and delegate where possible
The first step to efficient workflow management is to set up a system that records what tasks need to be done as they emerge, and assigns an 'owner' to each task. Collaborative software tools like Trello are good for this, but you could just as easily use a large whiteboard and a series of Post-it notes. Whenever a new task comes over the horizon, capture it with one of these systems so it doesn't' get lost in the chaos of day-to-day business.
Prioritise
Once you've captured a number of tasks, you need to determine in what order they should be done. Factors to consider include when they actually need to be done by, whether you currently have everything you need to get it done and how long the task is expected to take. You can use a simple system to designate the priority of a task, such as one-three with one being a top priority. Record this alongside the task and change it as needed later on.
Track and assign
There are many different organisational systems that you can use for tracking tasks, but a simple one that can be highly effective for small businesses is 'Kanban', which was first developed by Toyota in the 1940s. With Kanban, workflows are visualised through a series of columns, with individual tasks flowing through these columns.
The simplest form of this is to draw three columns on a whiteboard - 'To do', 'Doing' and 'Done' - but you can customise this to suit your specific business needs. All tasks start off in the 'To Do' column, and from there they can either be assigned to or chosen by specific team members, depending on your organisational structure. In this way you can quickly see what tasks are currently being done and by whom, what's complete and what's in the backlog.
Automate tasks wherever possible
The less time that you spend carrying out mundane, simplistic, but nonetheless necessary tasks, the more time you'll have to spend on doing the things that develop your business. There are many software solutions you can use to automate tasks, such as Nuance's Power PDF, which allows for instant conversion of Office documents into PDFs and the ability to access them from anywhere via the cloud.
It's worth taking a look at what specific processes are currently slowing your work down, and then searching for what software solutions can be used to automate or simplify them.
Sponsored post: copyright © 2015 Nuance Communications, Inc, a leading provider of voice and language solutions for businesses and consumers around the world. Its technologies, applications and services make the user experience more compelling by transforming the way people interact with devices and systems. Every day, millions of users and thousands of businesses experience Nuance's proven applications. For more information, please visit www.nuance.co.uk.