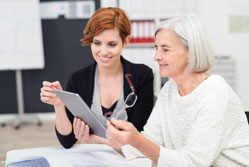 As a small business, the chances are your budget for training is small - perhaps even non-existent. But that doesn't mean you can't offer a wide range of development in-house.
By setting up a reverse mentoring programme both younger, less-experienced staff and older, more-experienced staff can benefit.
Reverse mentoring flips the traditional mentor-protégé model on its head, because younger professionals "mentor" their older colleagues. By injecting fresh ideas and a new perspective, reverse mentoring counteracts the inaccurate assumptions, inane biases and business blind spots that come from being in an industry, or a role, for too long.
First popularised by former GE CEO Jack Welch, reverse mentoring acknowledges that everyone within an organisation brings something to the table. By pairing a younger, less-experienced professional with an older executive, reverse mentoring helps young professionals gain confidence and strengthen their leadership skills, while helping older executives stay up-to-date on the latest business technologies, which can strengthen a business's competitive edge.
Reverse mentoring is also beneficial for fostering positive attitudes and managing generational diversity. There are clear differences in how employees from each generation work and reverse mentoring reduces these generational tensions by allowing discussion and the sharing of insights in a non-confrontational setting. Of course, as an added bonus, executives can better identify, evaluate and cultivate new talent.
Key reverse mentorship benefits include:
Reducing intra-generational tensions.
Encouraging frank discussion on current issues.
Driving workplace innovation.
Getting up-to-date on new technologies.
Enhancing leadership, conflict management and coaching skills.
How to start a reverse mentoring programme
Successful reverse mentoring programmes are founded on a mutual willingness to set aside preconceptions and start afresh.
The goal for both mentor and protégé is to push one another outside their comfort zones to try new ways of working, thinking and being.
1 Play matchmaker
Consider which elements in the individual's background could create a common bond. For example, are they both alumni of the same university? Do they share a passion for cycling? Do they volunteer with the same charity? While these commonalities may seem superficial, they can help foster a shared sense of identity and commitment to the mentorship.
2 Keep the relationship casual
Traditional mentor-protégé relationships typically have a clear, structured objective with regular monthly meetings. While it is still important to meet consistently, this relationship can be more casual. I recommend committing to the time needed, but not fixing when that time is used.
3 Set an initial goal
The first few meetings can be a bit awkward if neither party are sure what to discuss - so set an initial goal. What starts as a basic tutorial can then blossom into a relationship of respect. Once an open dialogue is established, it will be easier for both mentor and mentee to seek one another out for natural conversations.
When each party commits to giving and receiving constructive insight, both will develop valuable leadership skills, gain behavioural insights and build strong intra-generational relationships that are key to workplace success.
Copyright © 2015 William Buist, business strategist, speaker and founder of the exclusive xTEN Club - an annual programme of strategic activities for small, exclusive groups of business owners. xTEN helps accelerate growth, harness opportunity, build your business and develop ideas. William is also author of two books: At your fingertips and The little book of mentoring.
Twitter: @xTENclub
Facebook: https://www.facebook.com/AbelardUK
LinkedIn: https://www.linkedin.com/in/wbuist
Google Plus: https://plus.google.com/+WilliamBuist/posts