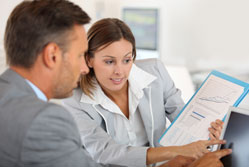 Does your start-up need an injection of capital to get of the ground? If the answer is yes, you are ready to dive into the world of fundraising; but, understandably, this prospect may fill you with fear and evoke images of a blindfolded leap from a pretty high diving board.
The answer is to take the blindfold off and write a solid business plan, honestly covering all aspects of your business and serving to reassure investors or funders that taking a risk on your venture is a good decision.
Not everyone understands the delicate relationship between the business plan and fundraising. That's why we conducted a survey of our own clients - those who had successfully reached the business start-up stage - to learn about their real-world fundraising experience.
The survey asked a series of questions concerning the process of fundraising, the importance of the business plan, the length of time it took to find investors, the type of investors that eventually funded the business and the amount funded.
The truth about fundraising
The findings revealed that the average duration of the fundraising process was three to nine months and that the average amount of investment was £50,000 to £80,000. Investors included venture capitalists, angel investors, private investors, and financial institutions. All of the 500 start-up owners that we polled agreed that their business plan had been critical in attracting investors.
Our research showed that investors support businesses of all types and sizes. For instance, a small café business in London, employing five people, raised £60,000 from angel investors; while a manufacturing plant located in Manchester and employing 15 people raised well over £600,000 from venture capitalists and banks. The average start-up investment for online businesses was £50,000 but there were also a number of micro-businesses that were able to launch with investments as low as £20,000.
The importance of a business plan
What the survey respondents had in common was a sound and well put-together business plan. Investors need the business plan to evaluate the business mission, marketing and sales, operations, financial feasibility and other factors. The business plan gives investors the information they need to determine when they can expect to recover their investment and the likely return on their money. It should be in-depth, accurate, customised and focused to be successful.
Any entrepreneur who is uncertain about business plan development for fundraising should not hesitate to seek out the services of experienced business consultants. Your funding could depend on it.
Sponsored post: copyright © 2016 Alex Silensky, ceo of OGS Capital, which specialises in business plan development, feasibility studies and market research.