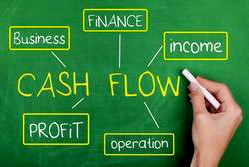 A consistent influx of cash is key to running a successful business; but how do you maintain a regular cash flow?
There are a few techniques and sure-fire ways of tackling cash flow; but it's important to remember that it comes down to your individual capabilities around money management and the methodologies you incorporate.
The good news is that there are plenty of things you can do to improve your cash flow and the more of these steps you take, the greater the benefit for your business.
Customer invoicing
Invoice customers as soon as the work is complete. If you delay, it suggests that you're not tight on cash collection; as time passes, customers forget the value that you've given them and they are less willing to pay up.
If you operate in a service industry, investigate whether you can charge fully or partially in advance.
Make it easy for customers to pay you, with online invoices and payment buttons that accept credit cards.
For repeat customers, consider using a low cost direct debit provider such as Go-Cardless. This will put you in control of your cash collection.
Consider prompt payment discounts, or discounts for payment in advance.
Where you extend credit, charge interest to encourage faster payment. You could also consider charging penalties for late payment.
Encourage customers to pay by credit card as they will benefit from an interest free period.
Financing
If you have long payment terms, consider using an invoice financing service such as Market Invoice.
Depending on your credit profile, you may be able to obtain a credit facility with a bank to cover cash flow shortfalls.
Consider purchasing large items on a finance lease, such as cars or computer equipment, to spread payments over a longer term.
Paying bills
Use company credit cards where possible and pay off the balance in full. This can extend your interest-free payment period by up to 56 days.
Negotiate longer dated payment terms where possible.
Cash flow analysis
Work with a good accountant who understands your business. A skilful accountant can provide insight into areas that may have been overlooked and help you anticipate cash flow problems.
Monitor your accounts in real time using a cloud-based accounting tool such as Xero.
Produce a cash flow plan for the next year. Consider using Crunchboards for this as it enables you to create different scenarios based on what plans you have for the business so you can see how each one impacts cash flow.
Now that you have a comprehensive list of tips and techniques, it should be easier for you to ensure regular cash flow. Go ahead and revolutionise your business today.
Copyright © 2016 David Gormer, chartered accountant and founder of Square Mile Accounting.