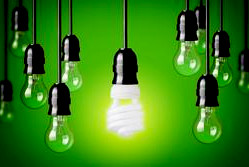 As a start-up or small firm, you are always striving to minimise your fixed costs. When it comes to energy savings the good news is that you can reduce energy usage (and costs) relatively easily.
The Carbon Trust has found that even low cost and cost free actions can reduce a business's energy costs by 10%, with quick returns on investment.
Before you start, you need to find out who your business energy supplier is, what energy package you are on and what other packages are available. Note the prices you pay for comparison later. If you have moved into new premises and you don't know your business energy supplier, this guide from Ovo Energy can help.
Business energy reduction strategies
Start out by doing what The Carbon Trust calls an energy walk around. This involves a brief survey of all the premises your business operates from. The aims of the walk around are to;
identify which equipment uses the most energy;
understand how energy using equipment is controlled;
identify opportunities for energy savings.
Heating and lighting savings
Heating (including ventilation and air conditioning) and lighting are often your two biggest energy costs. They can make up almost 100% of your energy usage (heating up to 60%; lighting up to 40%). You can make substantial savings by ensuring that your heating is well maintained and operating efficiently.
Here are three ways to cut heating costs:
Turn it down: Lowering thermostats by as little as one degree can reduce your annual heating bill by 8%. Turn the thermostat down to a level that is comfortable for your employees to work in.
Replace inefficient boilers: Make sure that when replacing older boilers you meet new standards for energy efficiency. If you can, spending a little more on a higher efficiency boiler can bring greater savings.
De-stratification fans: Installing these in commercial or industrial buildings with high ceilings and warm air heaters can reduce energy use by up to 20%.
There are many ways to reduce lighting costs. Switching from traditional bulbs to LED fixtures could make large savings. Adding occupancy sensors, which either dim or switch off lighting, can reduce your electricity usage by up to 30%. Daylight sensors can also adjust lighting to naturally take advantage of daylight; these can save up to 40% of lighting costs.
Around the office
Encourage staff to switch off equipment when not in use rather than leaving it on or switching it to stand-by. It might not seem like much but a single PC and monitor left on for 24 hrs a day will cost £45 a year in electricity. Turning it off at the end of the day could reduce this to as little as £10.
Installing cheap and easy fixes such as self-adhesive thermal strips around doors and windows will reduce draughts which can account for as much as 10% of any heat loss. In the same vein, fitting automatic closures on doors will also reduce heat lost through doors left open.
Compare business electricity suppliers
Now you have reduced your usage it is also time to check you are getting the best price per Kwh, especially at peak times. Use a business electricity comparison tool to check where the best deal is and switch if your current provider doesn't offer this or can't match it.
All the figures given for reductions in energy usage, cost and efficiency savings are from the Carbon Trust.
Sponsored post: copyright © 2016 Russell Bowes, copywriter and SEO expert.