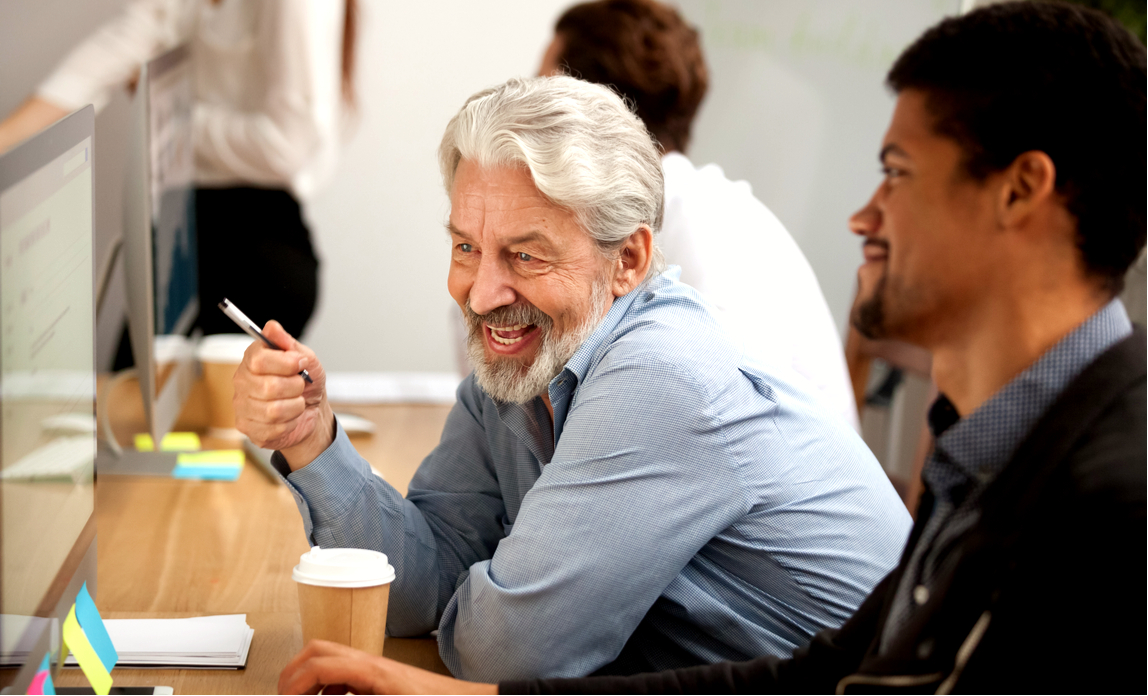 Once associated with trendy start-ups and millennial culture, coworking spaces bring together a greater cross-section of generations than ever seen before. Coworking hubs are hugely diverse spaces, and can now cater to everyone from traditionally business-minded baby boomers to the disruptive Generation Y.
According to Michael Dubicki, Business Development Director at Flexioffices: "Coworking spaces bring together the old and new… they have evolved into a vast networking and knowledge-sharing opportunity, generating new business at a scale hitherto unseen."
We spoke to industry leaders about what's behind the rise in coworking environments, and what this means for the way we work.
Who uses coworking spaces?
For Alessa, Head of Community at The Office Group, the 2008 financial crisis was a significant reason for coworking spaces taking off: "After the recession, there was a huge increase in people in their 30s and 40s being laid off, and deciding to go it alone and start their own business.
"When they needed to move out of their living room, most of them ended up in a coworking space. This was hugely beneficial, albeit an incredibly daunting step.
"Simultaneously, more graduates than ever before are starting their own businesses (not really a thing when I graduated), which has resulted in the generations sharing a workspace - creating interesting, dynamic and inclusive communities."
Thrown together in the coworking environment, these two groups were at odds at first. Although the older generation are old hands in terms of business experience, coworking spaces are unfamiliar territory for those accustomed to a typical corporate layout. For newly-graduated entrepreneurs, however, coworking spaces are familiar extensions of the university campus.
Listening and learning
This shared workspace presents a knowledge-sharing opportunity for both groups. Older colleagues are finding themselves surrounded by a generation raised on the internet, where flexible, technological business solutions are second nature.
On the other hand, younger generations - less experienced in the people-focused business world - are able to learn from the years of business knowledge of their more experienced workmates.
Darren McArthy, Marketing Manager at CoinBurp, comments: "As a new start up, the co-working office environment is perfect for us. The social culture allows our relatively young team to mix with older generations, which offers us limitless opportunities for networking. A simple lunchtime chat can open up doors for potential business relationships."
Progress in business can be helped along by the mediating presence of the other generation, and conversations create a sense of community and network that is mutually beneficial.
Increased expectations of the workplace
Now, ten years on from the 2008 crash, the younger generation have had a profound impact on work in general. Generation Y is a highly educated and privileged generation, and demand a more fluid work / life balance supported by tech solutions. It now appears that across the generations, expectations of the workplace are higher than ever.
Janet Davies, Communications Director at Office Space In Town, offers her view: "It's no longer enough to simply provide four walls, a phone and an ergonomic keyboard. People's experience in other areas of life has improved.
"For example, there was a time when you wouldn't consider a holiday in Britain, as the general standard of hotels and B&Bs was very low. Nowadays when we go on holiday, we want to go somewhere at least as nice as our own home, if not better. The UK hospitality industry as well as that overseas has completely upped its game.
"This has, by extension, had a profound effect on the serviced office industry, and on the environment we expect to work in."
Younger generations are expecting more, and the older generation don't want to return to the three-wall stack of cubes of the old corporate world. As a result, employers are increasingly focusing on agile working and engagement in the workplace. These features have become a perk for many.
Michael Dubicki adds: "Coworking has bridged the gap between existing offices and the 'new norm' of inspirational working environments. This satisfies new start-ups who expect this style of space from the get-go, but also established corporations with a desire to offer a different way of working, without spending huge sums on refitting their old offices."
The concept of work and the workplace is always evolving. Coworking spaces now support a huge network of entrepreneurs representing all industries and age groups. This cross-generational work style is giving a new meaning to work communities, and is opening up coworking to more people than ever.
Copyright 2018. Sponsored post FlexiOffices