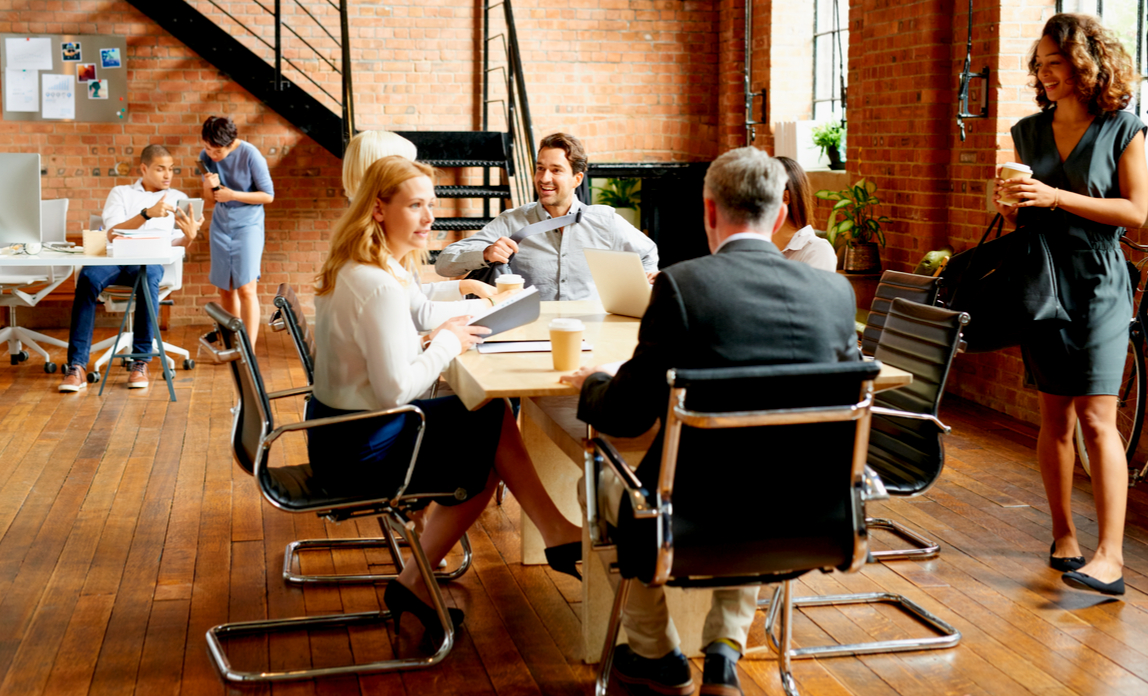 Starting a business? You'll need a base! Whether it's an office, a good-sized backpack that contains everything you need to run your business, a renovated shed, an incubator office, or something else, it doesn't really matter - as long as you can carry out your work when you need to.
There are many more office options available for new businesses than there were even ten years ago. Entrepreneurs - the world in 2019 is your oyster! But how do you choose the right workspace solution for you?
To help you on your way, here are some of the most popular options, along with the pros and cons of each one.
1. Hot-desking
When you hot-desk as a start-up, you're really just renting a desk in a larger, shared workspace. This can be on a day-to-day basis, or for longer periods - it depends on what you need.
With hot-desking, you're not guaranteed a certain desk when you turn up in the morning, so you'll need to bring all your stuff and set up camp each day.
A lot of bigger organisations such as the BBC have in-house hot-desking, and fewer desks than people working there, forcing a rotation of remote working. It's essentially an adult version of musical chairs.
The advantages of hot-desking are:
It's super-flexible - you only pay for the days you need a desk for.
By changing your workstation on a regular basis, you are exposed to new people and locations, keeping you on your toes.
Because you need to set up all your things from scratch each day, and tidy them away when you leave, you naturally keep clutter to a minimum.
There will often be a range of workspaces to choose from each day. If you need to work on a difficult task, you can choose a quieter space. If you're looking for a buzzing environment to give you energy, you can choose a more vibrant place to sit.
You can usually access added-value facilities such as bookable meeting rooms and a shared receptionist. There are usually common areas for lunching and networking as well.
The disadvantages of hot-desking are:
it can be inconvenient to have to pack up all your kit every night and start over the next morning.
You'll only have a desk space to call your own, with basic office facilities - no room for specialist plant or tools.
If you're hot-desking as a team, there's no guarantee that you'll be able to sit next to (or even close to) your colleagues on a given day.
Some people simply do not like change. If you're a big fan of daily routines and personal space, hot-desking can be challenging.
2. A coffee shop
Over the past decade, the coffee-shop 'office for the day' has risen in popularity. For the cost of a few hot drinks, you can essentially hot-desk for free.
Some newer cafes are even built for purpose, with electrical outlets and speedy wifi, and are more than happy to have you there all day, as long as you spend some money on food and drinks. It's usually easy to spot when you walk into a cafe whether they're OK with people using the space to work.
The advantages of working from a café are:
You can pretty much come and go as you please (within their opening times).
You can easily host small, informal meetings with clients.
Almost all cafes these days have free wifi, although the signal strength isn't always top-notch.
There's a never-ending supply of hot drinks whenever you need a caffeine pick-me-up.
The disadvantages of working from a café are:
It's a chatty and busy environment, which can be distracting. Some people work well with background noise; others don't.
There's a certain cafe working etiquette. You'll need to spend some money there, keep your equipment to a minimum, and if the cafe is a small and cosy space, you obviously shouldn't host large meetings or take loud phone calls.
When you're in a public place and using public wifi, you need to consider security, especially if you're dealing with confidential data.
You won't have access to any basic office extras, like a printer.
Space in a cafe is often limited. Instead of a desk, you'll likely have a smaller round table with little space for loose paperwork, and may not be close to a plug socket.
3. A business incubator
With local authorities and governments increasingly prioritising local growth, and recognising the prosperity that it brings, there's an increasing amount of subsidised support available for new businesses.
A business incubator helps start-ups, especially high-growth ones, to get off to a flying start and make the most of their potential.
An incubator provides not only a workspace to run your daily operations from, but access to a wide range of financial and technical services. Mentors are on hand to advise on essential business issues such as R&D, and you have the opportunity to network with other like-minded start-ups.
The advantages of incubators are:
It's an energising and inspiring environment, surrounded by like-minded entrepreneurs.
Incubators typically provide access to investment, workshops, mentorship and office services to help jump-start your business.
Compared to renting your own office, most incubator spaces are affordable. Some will accept part of your equity as payment, and some even set your membership rate or rent as a proportion of your monthly revenue.
The disadvantages of incubators are:
Some incubators and accelerator programmes will want to take a share of your equity for helping you out.
If you put in the work, you should be able to find all the mentoring and advice you need elsewhere, potentially for free.
There may be a rigorous application process, where you'll need to provide a full business plan and disclose all your business activities.
Incubators aren't as 'come and go as you please' as other start-up office options are. Someone will have invested in your company, financially or with human capital, and you will be expected to turn up and put the hours in.
4. A coworking space
More and more places are offering coworking spaces for SMEs, such as Storage Vault workspaces. With a range of office suite sizes available, SMEs can rent an office on a month-to-month basis for a competitive price.
For as little as £100 a month - which is cheaper than your coffee bill if working from a cafe - you'll have access to a somewhat private office, and shared facilities such as meeting rooms, kitchen and lounge area.
What is included in your coworking package depends on where you are, and what you're paying for it.
The advantages of coworking are:
You can access an interesting, dynamic and inclusive community, comprising people from different backgrounds.
The rent should be affordable for most businesses that either already have a revenue stream or have secured initial funding.
You may get to attend events and workshops, helping you grow your professional network and improve your skill set.
Depending on the space you rent, you may have access to additional facilities such as storage units if you need extra space for stock or machinery.
The disadvantages of coworking are:
Your fellow co-workers may not live their lives in the same way as you, or have the same priorities. They might be slow at doing the dishes, keep a messy office, or have other annoying habits.
You'll sacrifice some privacy and security, as other businesses will share your space. This could be a problem if you handle confidential information.
5. Working from home
For a lot of people starting a business, working from home will be a reality at some stage. In the very early days, when you're still testing out ideas and finding your way, there may be a period of time where your revenue streams are simply non-existent.
Some people never move out of their home office, and others divide their time between working from home, a café, and hot-desking.
The advantages of working from home are:
You can dress exactly as you like.
You won't waste time and money commuting, and don't have to worry about packing lunches.
You have total control over your working hours. If you do a lot of business overseas, for example, you're free to work the hours that suit your clients.
If you're good at getting down to business, there can be fewer distractions in a home office than in a busy open office environment.
A home office means seriously reduced overheads - something budget-savvy early founders will appreciate.
The disadvantages of working from home are:
There's no inviting clients over. You'll need to find an alternative meeting space for catching up with contacts and clients, or use teleconferencing tools.
If you've got a family, it can be difficult to close the door and tell the kids not to disturb you.
Working alone can become quite lonely - the lack of social interaction could be challenging.
Proper office equipment such as ergonomic chairs are expensive investments, and it's tempting not to bother. This could potentially lead to long-term postural issues and repetitive strain injuries.
A lot of people enjoy the feeling of leaving the office at 5pm to go home. If your home is your office, you never really leave the office properly. This can have an unhealthy effect on your stress levels.
How do you choose?
There's no right and wrong when choosing your first office space. You need to consider your particular situation, and take it from there.
Would you enjoy having like-minded individuals around you? Would you benefit from having someone to hold you accountable? Can you only work in silence? Do you need help with administration, like fielding phone calls? Does your office need to come with parking? Is privacy a major consideration?
Only by matching your requirements with your budget and the opportunities in your local area can you sort out which workspace is best for you.
Luckily, the majority of start-up office solutions are payable on a month-to-month (if not day-to-day) basis. This means that if you find you don't have £100 a month to splash out on a coworking space, you can simply move out and set up a desk in your home.
Copyright 2019. Article was made possible by site supporter Kraig Martin / Storage Vault