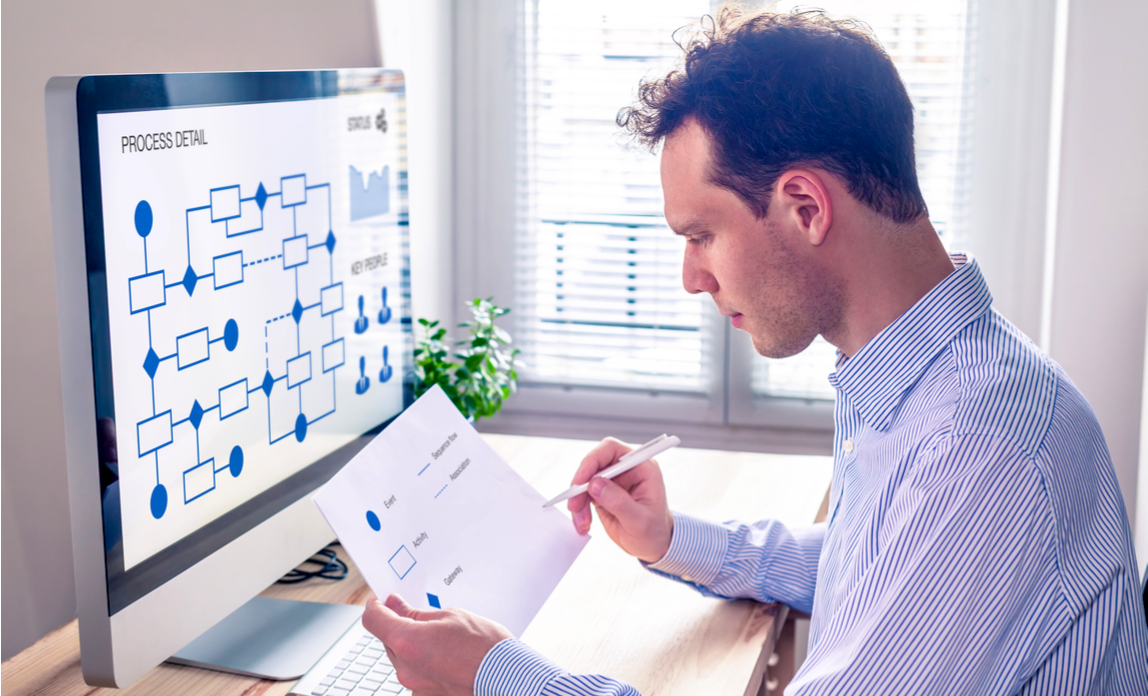 Streamlining business practices can substantially enhance the efficiency of your business, boost profitability, and drive both internal and external stakeholder satisfaction.
Workflow automation (WFA) technology is readily available, and can be scaled to your needs. What's more, costs are low, allowing for widespread adoption of new automated business processes, frameworks, infrastructures and systems.
Of course, it can be tricky to find the optimal way to use automation in your business. Use the following four steps to identify your requirements, and begin the move towards greater automation.
1. Identify processes causing discomfort in your business
Businesses endure difficulties in the same way that their owners do. They experience periods of rapid growth, slow growth, and stagnation.
Too often, businesses become bogged down in complicated work processes, which don't align with their overall objectives. Inefficiencies can occur with a convoluted workflow system, and this naturally leads to slow growth and decreased profitability.
Employees can also get bogged down by routine tasks, dampening their enthusiasm and motivation. If your business is experiencing high levels of staff turnover, it is time to re-evaluate the processes and systems currently in place.
2. Evaluate where workflow automation could help
Workflow automation can be implemented for specific business functions, or as an overarching system for the organisation as a whole. Automating some of your processes could free up employees to focus their attention on high-yield, important activities which are more beneficial to the business.
To begin, assess the performance of your business against others in your industry to see where they could be room for improvement. Consider the specific sector in which your business operates, and who your competitors are.
Different types of business automation systems can be implemented - notably process optimization, which is designed to enhance efficiency. It's essential to be clear on which processes could be automated, and how this could help your business become more efficient.
One of the most effective ways to manage monotonous duties and activities is RPA, or robotic process automation. RPA can be used for automatic email responders, handling customer service requests, invoicing, and other repetitive tasks.
Among the many benefits are a reduced burden on human resources, decreased employee costs, and the ability to infuse additional technologies for greater ROI.
3. Implement and adopt process change
Next, consider how you will implement workflow automation measures. For example, will there be extensive IT work involved? Will your existing systems be replaced, or will they be integrated with the new procedures? These are important considerations to bear in mind.
All transformation initiatives require strong leadership to guarantee the adoption and acceptance of the new system. It's important to evaluate how each department will implement the necessary changes, and be certain that you aren't just bringing new procedures into the mix which will add to existing inefficiencies.
Employees also need to be successfully on-boarded to ensure their buy-in. If your staff don't understand the need for change, and how it can benefit them, this can discourage them from embracing and adopting your new solutions.
4. Establish KPIs to measure the effects
Workflow automation can dramatically enhance business ROI, employee morale, customer satisfaction, and the general flow of business activity. Manual processes which typically take up a lot of work hours and are employee-intensive are typically positively affected by automation processes.
The final step - establishing KPIs for measuring the effectiveness of your new processes is vital. Monitoring these will allow you to clearly gauge the effect of the changes on your bottom line, and to assess where further refinements can be made.
Copyright © 2019 Article was made possible by site supporter Avner Greenwald