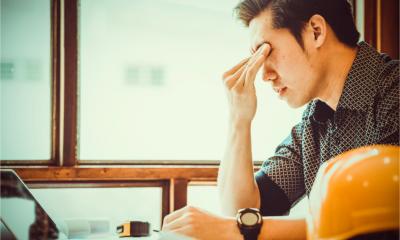 According to the Mental Health Foundation, as many as 3 in 10 employees will experience a mental health problem in any one year, with around 1 in 6 people showing signs of anxiety and depression each week in the workplace.
Monday 20 January has been dubbed 'Blue Monday' - the most depressing day of the year. To mark this, businesses across the UK are being encouraged to stop and think about mental health but, as highlighted above, it is an issue which affects people throughout the year.
The UK construction industry, in particular, throws up some deeply concerning statistics around the poor mental health of its employees. Male site workers are three times more likely to commit suicide than the average UK employee. Therefore, businesses should strive to have staff wellbeing at the forefront of their core practices to ensure a healthy workplace culture is created.
Although the focus on promoting mental health in the workplace has considerably improved over recent years, there is still a long way to go. Regardless of the job, all employers should manage and offer the right support to those who are suffering.
Identifying signs of poor mental health
It can be difficult to identify employees that may be experiencing poor mental health. Many sufferers hide their symptoms due the stigma surrounding poor mental health. Identifying the signs becomes even more difficult for those who work offsite or remotely. Men working in typically male roles are often perceived to be 'thick skinned' and lacking emotion, which is terribly misconstrued.
One of the most obvious signs an employee has a mental health problem is reoccurring absences from work. Regular short-term absences that aren't accompanied by a doctor's note for a specific illness may indicate an underlying mental health condition. If you notice a pattern of such absences, you need to be mindful that poor mental health could be a possible cause - especially as it's very rare for an employee to call in sick and openly cite depression or anxiety as the reason for it.
Reduced productivity and lack of motivation are also clear indicators that there may be underlying issues with a staff member that may require close monitoring.
You should also bear in mind that just because an employee has turned up to work it does not mean that they aren't ill and working hard to cover it up. Trying to continue as normal will often exacerbate their problems. The knock-on effect could see the employee begin to isolate themselves or become short-tempered, so any change in behaviour is another flag for concern.
As soon as you pick up on the signs, or an employee asks for help, the next step is to offer the necessary support to effectively and sensitively manage the issue. This could include considering flexible working hours or arranging a meeting with the company's HR department or consultancy, to help work out the best way to help the staff member move forward.
Even with these measures in place, many of those suffering will hide the symptoms and avoid seeking help directly, so having initiatives in place to encourage employees to seek help is paramount.
Measures to improve employee mental health
At Plastic Surgeon, employee-focused initiatives are at the heart of our company culture to ensure all staff are aware of the various methods of help available to them, both during and outside working hours.
Such initiatives include the Employee Assistance Programmes (EAP), a free 24/7 phone service which enables employees to share any concerns over the state of their mental health. Staff can download the app and login to access all kinds of support and advice, including short wellbeing webinars on topics such as resilience.
The service is confidential and, if regular calls are made, patterns can be identified to pinpoint recurring issues meaning appropriate support can be offered moving forward.
The NHS waiting list for mental health counselling is 26 weeks, but with the EAP an employee can talk to someone within a day or two. A service like this can, quite literally, save lives as those in the most vulnerable state can receive help almost immediately.
Other initiatives we have successfully implemented include an in-house Mental Health First Aid Champion Scheme, where nominated staff act as the first point of call for the nationwide team of staff. Regular events such as fundraising, tea and talk sessions and monthly company newsletters, also greatly increase the chances of someone suffering with poor mental health coming forward. This is especially true if the right culture is created to foster a confidential environment in which to do so.
Team building opportunities including anything from skydives to walks, also encourage everyone to get involved, resulting in a team ethos where employees are working together to support each other.
Overall, by being more aware of mental health, employers – both in construction and other industries – can efficiently spot the signs of poor mental health in the workplace. This helps prevent problem escalating and effectively manage those who are suffering and in need of support. By implementing initiatives that create a thriving culture of openness and camaraderie between employees, an environment focusing on the protection and nurturing of mental health will be fostered.
Copyright 2020. Featured post made possible by Sally Orton, HR Manager at Plastic Surgeon, the UK's largest surface repair specialist.