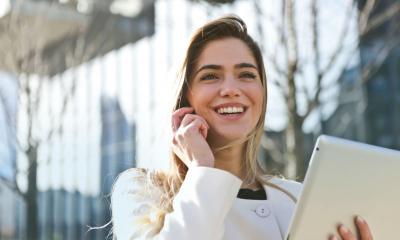 Why do so many of us leave our self assessment tax return to the last minute? The short answer is: because it takes time and energy. In 2019 alone, HMRC reported that more than 735,000 tax returns were submitted on the very last possible day (31 January)!
We've put together a few tips to help make completing your tax return as painless as possible. Don't put things off any longer - get in control and avoid last-minute stress as the deadline approaches.
1. Be aware of the key submission dates
As you hopefully spotted, the deadline for registering as self-employed was 5 October 2019 for the 18/19 tax year. When you registered, HMRC should have written to you with your 10-digit Unique Taxpayer Reference (UTR), you will also need to set up your HMRC account for the self assessment online service.
These are the dates you need to know:
31 January 2020: the deadline to submit your online return for 2018/19, and settle any tax due for that period. Your first payment on account for 2019/20 is also due.
5 April 2020: end of tax year 2019/20.
6 April 2020: start of the new tax year.
31 July 2020: the deadline for your second payment on account for 2019/20.
What is a payment on account?
A payment on account is an advance payment made twice a year on 31 January and 31 July, towards the following year's tax liability. Each instalment is usually 50% of the previous year's bill.
It is a way of spreading the cost of the upcoming year's tax. If any extra is due after the two payments on account, a 'balancing payment' must be made by the 31 January the following year.
If you have overpaid with your payments on account (ie your overall bill is lower than the previous year's), HMRC will send you a refund.
2. Gather all your data together
When you sit down to fill in your tax return, it's really helpful to have all the necessary information to hand. Useful documents and details include:
your Unique Taxpayer Reference number (UTR);
your National Insurance number;
details of your income from the tax year, including from employment, self-employment, dividends and interest on shares;
records of any expenses relating to self-employment;
details of any outgoings which might be eligible for tax relief (eg pension contributions or donations to charity);
your P60 or other records showing how much tax you've already paid on your income (eg through PAYE).
3. Understand your personal allowance
Everyone who's liable for income tax starts off with a personal allowance. This is the amount that you can earn without needing to pay any tax on it.
It's important to know that this can reduce, depending on your earnings bracket:
if you earn less than £100,000, your personal allowance is currently £11,850 for the 18/19 tax year (Increased to £12,500 for this tax year, 19/20);
if you earn between £100,000 and £125,000, your personal allowance decreases by £1
for every £2 of income over £100,000;
if your earn £125,000 or over, your personal allowance is £0.
4. Keep thorough tax records
It's important to keep a record of all your business income and expenses. This not only makes it easier to do your tax return when the time comes, but also ensures you pay exactly the right amount of tax.
You also need to retain these records in case HMRC decides to check that your returns are accurate. You must keep them for at least five years after the January submission deadline.
Records to keep include:
all receipts for any goods, stock or expenses;
bank statements and cheque book stubs;
sales invoices, till rolls and bank slips.
Try to keep them in date order, and if possible, note which piece of work each record relates to.
5. Know what you can claim as an expense
Here's an overview of some common business expenses that you might be able to claim.
Travel expenses might include:
vehicle insurance;
fuel;
hire charges;
repairs;
servicing;
breakdown cover;
trips by bus, train, taxi or plane.
The cost of travelling between home and work (commuting or travelling to your business premises) can't be claimed. So, for example, a taxi journey to an external meeting is allowable, but not one to your usual place of work.
You can claim for office supplies such as:
stationery;
printing and ink;
computers and hardware;
software.
These must be for business, not personal use. For example, you can claim for a new laptop to design websites for clients, but not for a pair of headphones for listening to podcasts on your commute.
Allowable premises expenses include:
rent;
maintenance and repair;
utility bills;
property insurance;
security costs.
You can't claim for any costs relating to buying or building business premises.
If you work from home, you can apportion a part of your rent and utility bills to be expensed.
Finally, marketing costs that you can claim include:
adverts;
directory listings;
mailshots;
free samples;
website costs.
You can't claim for entertaining clients, suppliers and customers, or event hospitality.
See a full list of all allowable expenses and categories on the GOV.UK website.
Save yourself the panic
Hopefully these tips can help you sort out your self assessment before end-of-January panic mode sets in.
If you're still spending too much time worrying about your finances, maybe now's the time to give smart accounting app Coconut a try. After all, good bookkeeping leads to simple, hassle-free tax returns. Get 3 months free if you sign up before the end of January 2020.
Copyright 2020. Article was made possible by site supporter Coconut