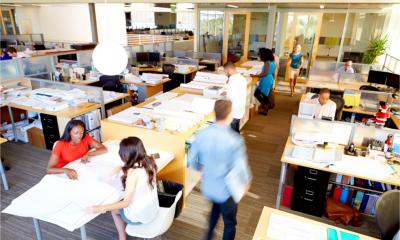 With an estimated 35k flexible workspaces worldwide, the coworking movement has boomed in popularity since its inception in 2005.
Typically open plan, the layout of coworking spaces naturally facilitates communication between staff, enabling them to work more collaboratively than ever.
For a business owner, it's the perfect set-up - saving on construction and material costs, not to mention equipment, where everything from kitchen space and meeting rooms, to stationery and printers are shared. In addition, working from a coworking space eliminates the time and costs of maintenance and cleaning, and you can have your entire team in one place. What's not to like?
However, research shows that open plan workspaces provide your workforce with little or no respite from background noise and conversational chatter, reducing productivity and negatively impacting profitability. Todor Madzharov, co-founder at MEAVO, shares six things all business owners should consider before all the walls come down:
49% of UK workers are based in open plan workspaces compared to just 23% of workers globally - but not all is peachy.
"UK business owners may believe they've nailed it when it comes to a streamlined working environment. However, Oxford Economics conducted a recent study amongst 1,200 executives in the UK and discovered that noise and distractions present big challenges at work. Lack of personal space can make it hard for employees to concentrate and ultimately impacts their levels of productivity."
86 minutes are wasted each day due to conversational distractions.
"On average, this amounts to over an hour each day per person, per working day in an open plan environment. This is due to unavoidable, irrelevant conversation from co-workers. Multiply this by an overall workforce over the course of a year, and you're looking at significant man-hours."
It takes 23 minutes to refocus after a distraction.
"A study by the University of Irvine has found that it takes, on average, 23 minutes and 15 seconds to get your head back into a task following an interruption at work. This is unavoidable in an open plan workspace, and what may seem like a small interruption can really add up over time."
58% of solution-orientated employees, like engineers, designers & developers, require private areas to achieve optimum results.
"It may seem like a no-brainer, but many of these types of businesses are conducted in open-plan environments. However, 700 respondents from industries like software, creative, marketing and architecture were asked about their workplace, and it was discovered that 58% craved more private spaces for problem-solving and 54% found their current working environment too distracting."
Just a third of workers have been asked their views on their current work environment by their employer.
"There's no denying the advantages of open plan, but it's important business owners consider various factors from individual working styles to overall output. Talking and listening to team members will allow you to create a workplace layout that works for your business; increasing productivity and morale, and cutting wasted man-hours in the process."
There are affordable solutions aside from expensive refurbs.
"Workplace solutions come in all shapes and sizes. A massive office overhaul can be expensive, as can creating private workspaces when starting from scratch. One affordable, yet high quality solution is to install soundproof phone booths in a coworking space or open-plan office. Having a quiet, private area to make calls and take part in deep work is crucial when it comes to maintaining employee productivity, in an otherwise bustling space."
Copyright 2020. Sponsored post by Todor Madzharov, co-founder at MEAVO, a London-based start-up that creates customisable bespoke phone booths and meeting pods for coworking and open plan spaces.