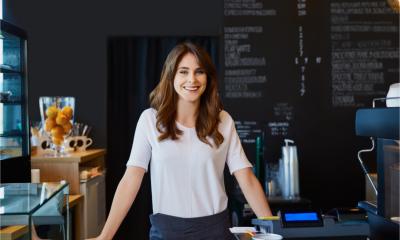 You might be trading - but are you doing all the things that help to turn a small business into a great one? Probably not. Because as a small business, doing anything out of the ordinary can spark chaos. Small, new start-ups tend to stick to what they know, and that's it. But what if the missing ingredient is the secret to your success?
Although you might have found yourself in a particular market, that doesn't mean you have fully exploited it.
It's easy to think that some ideas are only meant for big businesses with big budgets. However, we know that not to be true. So, we want to show you some of the target areas of the market that you might be ignoring, and how to unlock their potential.
1. Go mobile
We're living through an era where everyone is glued to their phones. Think about it - you don't leave the house without your phone, and if you do you'll be turning around to go back and get it. We do pretty much everything on our phones, from old-school texting and calls to browsing social media and online shopping.
One big problem that many small businesses face is that they can't perfect their website for mobile users. Even the biggest companies out there have trouble with their apps. But apps are now becoming more popular than browsing the internet. It is seen as the quickest route to download a company app, and browse through that.
So, if you don't have a mobile app at the minute, contact mobile app development services. A service such as this will allow you to create a fully functioning mobile app so that you can get the most out of your sales.
The more avenues you create to be able to connect with your customers, the more sales you're going to be able to make!
2. Use 'big' marketing methods
Bigger marketing methods seem to be something that smaller businesses don't tend to explore. Smaller businesses tend to stick to marketing methods such as social media marketing, flyers and posters, and perhaps local radio advertising.
What small businesses need to be doing is marketing. To get any brand off the ground, a hell of a lot of money needs to be invested into different marketing methods, such as Google Ads, PPC, SEO - the things that costs a lot more money to do.
Generally, the bigger the cost of the campaign, the more you're going to be able to get out of it. Work closely with different marketing companies to make sure that you get the best campaigns running for your business.
3. Target different audiences
It might be a good idea to see if you can branch out and target different target audiences. Some businesses trade to other businesses, such as those offering a service or products. In this instance, you'd be trying to expand where you can sell to, rather than to whom.
For those of you who are appealing to certain people, perhaps with clothes, see if you can bring out a range that targets another audience.
The more people that you can target, the more success you're going to have in terms of profits. Expansion is key, and one of the only ways of being able to do is making sure that you tackle different audiences.
4. Expand overseas
Overseas is a dangerous territory to get into. It risks so much in terms of profits and financial management, but once you tackle an overseas market, you tap into an expansion that you wouldn't have been able to achieve if you had just stayed in one country.
Overseas expansion is done slowly, and the first thing you need to do is build contacts. Start by having an overseas address so it looks like you operate within that country - it always works better. Make contacts one by one, and slowly enter into the overseas market!
Copyright 2020. Article was made possible by site supporter Jeremy Bowler