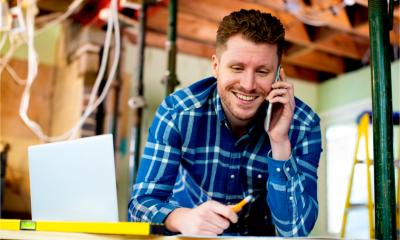 When it comes to turning leads into customers - especially in trades like building, plumbing or roofing - there are three golden rules that we have found can really make the difference between a thriving business and those that are just making ends meet.
Rule one: respond quickly
Timing matters. Research shows that the odds of making successful contact with a new lead are increased 100 times if the lead is called within five minutes compared to waiting just 30 minutes.
If a customer has just made an enquiry, then there's a high chance that they are still by their computer and/or phone and they are still interested in discussing their enquiry. The moment that a potential customer reaches out to you – whether it's via an online contact form or a phone call – they are at their highest level of interest in your services.
A prompt reply inspires confidence and trust; and it puts you ahead of the pack. If you take too long, that customer will find another business with a faster response time. If you can't take a call straight away, aim to call back within five minutes for a shot at getting the work.
But what if you're up on a roof when you get that enquiry? If you can't answer your phone straight away, make sure you have a clear and friendly voicemail message that tells your customer they've reached the right place and that their call will be returned promptly.
Don't forget to check your messages and your email regularly. It could be worth investing in a Customer Relationship Management (CRM) platform to make sure you're notified of new leads.
Rule two: be persistent
How many times should you try calling a potential customer before throwing in the towel? It's all in the numbers - your chances of making contact on the first attempt are just 11%, but by the 6th attempt, you will have contacted 90% of your leads.
If you give up after one or two calls, you may as well throw your money down the drain, along with your chances of long-term success.
Rule three: follow-up
Let's assume you typically follow this approach when you're a trying to convert a new lead:
Lead received
Lead contacted
Job inspected
Quote issued
Quote accepted
In other words, you spend a lot of precious time, energy and money getting to the point at which you submit your quote for the job. Don't let these valuable opportunities go to waste.
A common mistake made by many tradespeople is not having a follow-up process in place once a quotation has been issued. We call it poor follow-up etiquette.
Follow-up etiquette is about providing fast quotations and a structured, yet unobtrusive follow-up process. The idea is to develop relationships, build trust and show professionalism - and it should be the code of conduct for every tradesperson.
Create a quotation follow-up process to use with each and every prospect. This way, once you've sent out your quote, you'll know exactly what to do next and when to do it. These steps will help you close more leads and get more customers.
One way to get an edge as a tradesperson is to quote more quickly (and professionally) than your competitors. The minute a potential customer gets in touch, it's a race against time to impress them and to prove to them that you're the best person for the job. Getting quotes out should ideally be done on the same day – beating any competitors to the post.
Once you have sent your quote, there are a number of tools that can help you stay on top of your follow-up process. Microsoft Office, Google Docs or even a basic diary can help you to track the status of the quotes you have sent. You can use reminders on your phone or a project management app to keep on top of follow-up dates. Or you could invest in software that does everything you need for a small fee.
Whichever route you choose, here's a plan that can help you stay on top of your prospects:
Send out your quote via email and record the date it was sent;
Tell the customer when you will get back to them to discuss the quote;
Set a reminder to follow-up at the right time;
Once followed up, and if not closed, schedule another time to follow-up with your prospect and repeat the process.
Don't give up on "lost leads". There are always some people that decide to delay getting the work done or who are out of contact for a while. These are still valuable contacts – send them a follow-up email every couple of months to remind them that you are there if they need you.
If you don't win the job, it's not too late to leave a good impression. Thank the customer for considering you, wish them all the best with their project and tell them if they want anything in the future, then not to hesitate to get in touch. If things don't go to plan or they need more work in the future, you will be their first port of call. They may even recommend you to their friends. It's a win either way.
Following these three golden rules will demonstrate your professionalism, build trust and help develop relationships with your prospects at every stage of the lead-to-customer journey. Stay focused, stay organised and use these tips to get and stay on top.
Copyright © 2020 Holly Carlo is the co-founder and marketing director of Get Work, an automated lead generation service for UK tradespeople, making it easy for them to get job leads via Google Ads. This blog is based on a longer guide to converting leads.