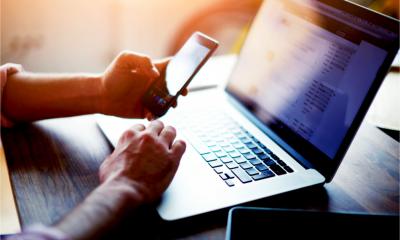 A bank account is indispensable for any financial transaction. A business account is all the more a necessity for business transactions. These days, many of those involved in international business prefer to open a bank account in their country of operation, in addition to their own local bank accounts.
There are multiple benefits to doing this, such as simplified transactions, optimized transaction fees and in general, making running a business much more comfortable. UK laws allow UK banks to open business accounts for foreigners.
The only drawback is that the process to do so is very elaborate because of British anti-money laundering policies.
There are three ways to open a bank account if you are not a resident of the United Kingdom:
substantiating residency;
opening an account with one of the major British banks;
online banking and mobile apps
Let's take a closer look at these options.
Substantiating residency
Under this method, the person seeking an account with the bank needs to submit his / her proof of residence, which is a requirement by major UK banks for opening a business banking account for British citizens.
Should one wish to opt for this option when opening a bank account, there are a few essential considerations. To formally become a resident, the person should stay in the United Kingdom for a period of not less than 183 days in one year from the date of purchase or leasing of the property.
The addresses of the registered office of the company and the residence must be different places. The set-up should not be that of a home office.
The place of residence should be a residential property. The person must not claim a co-working space, a warehouse or a garage as his / her place of stay.
Opening an account with one of the major British banks
The residency option discussed above involves a substantial financial commitment, and might not suit everyone. One could consider the following options as well before making a choice.
Opening a business account with a renowned British bank is the next best option. Banks like HSBC, Barclays and Lloyds are flexible and seamlessly accommodate both resident and non-resident customers. Though each of these banks have their own procedure to open a bank account, two essential documents required everywhere are:
a valid passport or proof of national identity;
acceptable proof of address in the country of your residence.
Let's now examine the requirements for each bank.
Barclays
Barclays is one of the largest and oldest financial groups in the world, and its international banking division offers secure and flexible banking options with a global perspective.
The bank offers its eligible customers the option to open an international account online with just a few clicks. However, it is worth mentioning that the international bank accounts offered come with underlying clauses and conditions like age and minimum balance, which differ from region to region or between countries.
Lloyds
Lloyds is another sought-after bank for international bank accounts in the UK. Lloyds' International banking helps with managing your finances in multiple currencies across countries.
There are two account options - International Current account and Premier International account. Each of these varies in features, benefits and requirements.
The bank also offers three currency options for opening the account - pound sterling, US dollars and euros.
HSBC
HSBC is another pioneer in international banking operations. The bank confirms eligibility for an international banking account based on the legal structure of the business.
It is again vital to note that each of these banks offers options and plans that vary in features and benefits. Proactive care and caution should be exercised by the individuals to analyse his or her need, and choose appropriately.
These banks have widespread branch locations and contact numbers to enable customers to reach out and learn about their services.
Online banking and mobile apps
Mobile banking is another way to open a bank account for those who are not residents of the United Kingdom. Its purpose is to allow a customer to have access to all the products and services he or she would access through a standard bank.
Such set-ups work online and do not have a physical branch or office location. Further, customer accounts are operated by a registered financial organization. Such platforms usually do not require proof of residence and an account can be opened from anywhere.
Following are several mobile banking options.
Monese
Monese facilitates opening an international account in pound sterling or euros using mobile, with no credit checks or proof of address. It has an instant notification feature for transactions, ensuring secure monitoring of inflow and outflow of money and has facilities like contactless pay, easy top-up and real-time tracking of funds.
Monese's contactless card allows making cross-border payments faster at competitive rates. The service comes with three pricing plans - Simple, Classic and Premium, and users have the option to change their plan any time.
N26
N26 is another digital banking option which comes with flexibility on account balances. There is no minimum deposit/saving requirement attached, and a business account can be opened for free.
Similar to Monese, N26 also has instant notification options so as to allow constant tracking of transactions. Further, users are entitled to cashback of 0.1% on purchases made and free card payment facilities worldwide. N26 users further enjoy free ATM withdrawals in euros.
Revolut
Revolut offers multiple accounts in 28 currencies, secure domestic and international payments, fee-free global spending and a cancel any time facility. There are four different plans for companies and two plans for freelancers; each starts with £0 management and opening fees.
The platform is currently available for companies registered within the European Economic Area and Switzerland which have a physical presence there.
Tide
Finally, a Tide business account is free to open and works on laptops, desktop computers and mobile phones. In addition to the usual facilities like notifications and multiple accounts maintenance, Tide has an option to give read-only access to the account to accountants and register auto-debits for expenses and payments.
Further, the account may be protected with a PIN, thumb impression or face recognition which tightens security. The app can also be integrated with accounting software for effective management and control.
There is no monthly fee for the Tide account, and the user pays based on usage. A business account may be signed up for as a registered company or as a sole trader.
Copyright 2020. Doing business is a test of character - doing business papers shouldn't be. Osome helps entrepreneurs establish all the accounting and bookkeeping records online 24/7 via one cloud-based platform.