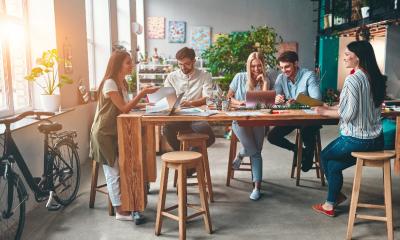 Keeping business costs in check is the sort of thing that can cause sleepless nights for entrepreneurs. If you're looking for ways to make your company leaner and more efficient, one area you might want to look at is energy usage in your office.
If you're not careful, it's easy to overspend on everything from your heating and air conditioning to your PCs and printers. But making a few relatively simple changes in your workplace could significantly reduce your energy bills.
Here are some ideas to get you started.
1. Stop too much sunlight streaming in on hot days
Chances are, your air conditioning system uses a lot of electricity. According to a recent infographic from business utility experts Utility Bidder, an average office air-con system uses 4,000 watts and can cost nearly £1,500 a year to run.
To help you bring this bill down, make sure you stop too much sunlight streaming into your office on hot, sunny days. Fitting effective blinds, and making sure you use them properly, will help with this. Another option is to install awnings.
2. Find draughts, and block them
To ensure you don't spend more than you have to on heating, try to find and eliminate draughts. There are various quick, easy and inexpensive steps you can take to block draughts. For example, around windows you can use foam seals or metallic or plastic brush strips.
If you notice cold air coming in under external doors, consider fitting a door brush strip or weather bar. You could also fill any disused extractor fan outlets with concrete or bricks.
3. Replace traditional lights with LEDs
Figures from the Energy Saving Trust suggest that on average, a quarter of businesses' electricity costs come from lighting - and by switching from traditional bulbs to LEDs, companies can lower their spending on lighting by up to 80 per cent.
So if you haven't already made the transition to more efficient bulbs such as LEDs, now's the time to take action.
4. Make sure your tech is turned off when you're not using it
If you're going to be away from your computer for more than 10 minutes, make sure the monitor is switched off. It's a good idea to use power saving settings to do this automatically.
Also, get into the habit of switching your computers, monitors, printers, photocopiers and other electrical equipment off before you leave the office. Even in standby mode, appliances like these still use energy.
For this to have a noticeable effect on your bottom line, you'll need to get your employees on board too - so you might want to think about training them in energy saving techniques, or placing energy saving tips on posters or stickers around your office.
5. Choose new equipment with care
When you're buying new equipment for your office, make sure you go for models with an impressive energy efficiency rating.
Also, choose tech that fits your requirements. For example, match your computers to the tasks you'll be using them for. There's no point in going for power-hungry high-spec models with large screens if something smaller and more efficient would do an equally good job.
Being in the know when it comes to energy saving hacks like these could help you to significantly reduce your office running costs. Of course, it's good news for the environment too.
Copyright 2020. Article was made possible by site supporter Utility Bidder.