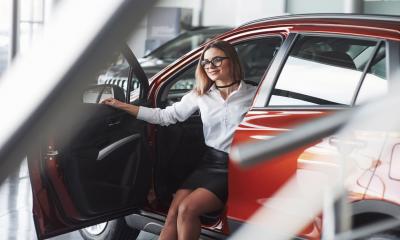 A company vehicle is a must-have item for many businesses - but choosing the right one can be difficult. A business car or van needs to tick a lot of boxes, so there are lots of factors to consider when selecting the right one for your firm.
There are many advantages to having a company vehicle - aside from the practical benefits, they are also great for promoting your firm or its brand. Decorating your company car or van with a logo and contact details instantly creates a moving advertisement to get your business noticed.
Adding personalised number plates will complete the effect, and is guaranteed to make your car or van stand out.
Here are some of the considerations to factor in when hunting for your perfect business vehicle.
Size matters
Probably the biggest practical consideration when choosing a company vehicle is its size. If your business requires you to carry around a lot of bulky equipment, the chances are that you are going to need a large van to make this possible.
However, if you have no equipment, and will simply be using the vehicle to travel to client meetings, a company car is ideal.
If you are looking for a vehicle that is a combination of the two, then you will find a small van or pick-up is a popular choice for many businesses.
Make the right impression
You will need to think carefully about the impression that you want to give to your customers and potential customers when choosing your business vehicle.
Your vehicle creates the first impression of you and your business, so you need to be sure that you get it right. A high-end luxury car will give the impression of success, whereas a van shows a more practical, hands-on approach.
Choosing the make and model of your vehicle is especially important if you are going to have your branding emblazoned on it for the world to see.
Lease or buy?
Deciding whether to lease the vehicle or buy it is another major consideration, and both options come with pros and cons:
leasing is a good option if you don't want to make a substantial up-front investment by buying the vehicle, and also enables you to replace the car with a newer model every few years;
purchasing outright is an excellent choice if you would like the flexibility of owning the vehicle and not being tied to monthly payments or mileage restrictions.
Bear in mind that if you lease your vehicle, you won't be able to apply any custom branding.
Affordability
Aside from the initial cost of the vehicle, you will need to consider the running and servicing costs of keeping your company car or van on the road. For both environmental reasons and for saving money, looking for fuel-efficient vehicles is a sensible decision.
You will also need to consider the cost of vehicle tax, parts, and repairs to ensure that your chosen vehicle doesn't become a financial drain on your business.
Copyright 2020. Article was made possible by site supporter Jeremy Bowler