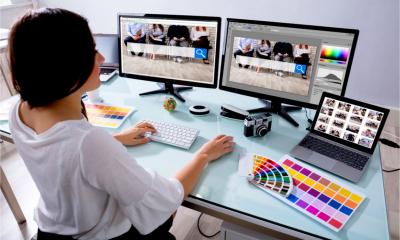 Making money online can be difficult and complicated. However, the good news is if you know a few things about website design, you can make money building WordPress sites for clients.
WordPress is the most popular service on the scene. It allows people to build their own websites without the need to have an extensive background in programming and web development. However, despite its relative simplicity, there are still many people who may struggle with some of the more complex aspects of using WordPress. That's where you come in with your expertise!
So, how do you make money building WordPress websites?
Build a portfolio of websites
Let's be honest, this one is a pretty obvious first step.
In order to make sure that you can provide gorgeous, easy to use websites for your clients, you need to make sure that you have the skills to build them in the first place. This may sound obvious, but it's surprising how many freelancers out there 'talk the talk' but are unable to deliver on their promises.
A good place to start is by building your own site. You can start to create a portfolio of websites you have built to show potential clients. Having a website you can demonstrate to clients that matches their requirements, lets them know that you can deliver on your promises.
In order to build your site, you'll need a few things – a domain name, web hosting, and WordPress.
Domain names are often very cheap, usually costing as little as $10 per year! Normally you can find a package bundle that lets you register a domain name for the first year completely free if you opt for an annual hosting plan. It's worth keeping an eye out for offers like these.
I would highly recommend taking a look at Hostinger for your WordPress hosting. They offer very affordable, high-quality plans, without compromising reliability. It's also important to bear security in mind when considering different hosting options.
Learn everything you can about WordPress
WordPress is a very simple, straightforward service which allows you to make websites with ease. That said, it's still best to learn the ropes to ensure you can deliver a stunning website when the client wants it. Bear in mind, that while the initial learning curve is definitely easy, once you get into advanced or custom features, you will need to need to know front-end language basics, as well as PHP.
At the end of the day, if it takes you half the time to create a website for a customer because you know what you're doing, you can make twice as much money.
Luckily, it's easy to learn most of things you need to know in WordPress. In our modern world, the answers to your questions are just a Google search away. It's easy to learn new things online, so why not spend a few hours learning about WordPress to help you build up your new side hustle?
The great thing about WordPress is that it is really simple and you can learn everything you'll need to know in a few hours a day. This can be done in conjunction with your main job, which means that you'd be able to begin your new side hustle alongside your old job!
Copyright 2020. Article made possible by Mary Derosa. Mary is a passionate blogger and the chief editor at her own content marketing company PRable.com