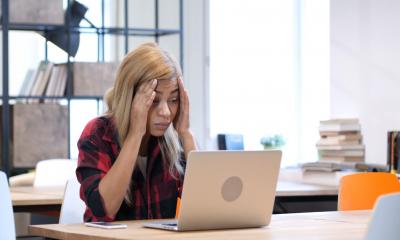 When you run your own business, it's important to have a good understanding of IT support services - or outsource to a company that does. Whether you run a company which is rapidly growing, and you need IT support or you're a freelancer promoting your brand, one of the most vital areas to understand is how to back up and secure your data.
Backing up and securing your IT data doesn't have to be difficult, although it can feel overwhelming. The six following steps will help to make the process a little easier and will ensure that you never have to worry about losing your precious data again.
1. Cloud storage services
Whether you're new to IT services or a technical whizz, you probably know a little about cloud storage services. Whilst some might argue that using a cloud storage system isn't technically a "backing up" method, it serves the same purpose. But what is a cloud storage service?
Instead of simply backing up to your computer or laptop's hard drive, a cloud storage service stores your data elsewhere and automatically syncs.
It is essential to use one of these services if you have a lot of data that you cannot afford to lose. If your computer or laptop ever breaks down, everything will be automatically backed up to this service and you won't need to spend valuable time trying to retrieve it. But how do you know which cloud storage service to use?
Christina Woodger at Which.co.uk looked into the different options when considering how to choose a cloud storage service. Using price, size and features, the guide considers the many different options and answers questions for those who might not have used a cloud storage service before. Woodger establishes the key features to look out for as:
Multi-device access: most cloud storage services can be used on a smartphone or tablet as well as on a laptop or desktop. This can be useful in a work setting where employees might need work from home or on the move.
Editing: some services don't allow users to edit documents within the cloud storage itself. Some only allow you to open the file outside of the storage service, so it syncs automatically. Many give the option of both, so this is worth considering.
File sharing: most services allow users to share your files with other people – but not all of them. In an office environment where colleagues are editing shared documents, this might be important.
Real-time syncing: this means edited files will automatically have their changes updated in the cloud storage service. Most modern services offer this, and it can be a great time saver.
Rollback: this lets users roll back to an earlier version of a document. It's useful if something goes wrong or your employees are working on a project which requires different drafts.
Video and music playback: videos and music often take up a lot of storage space, so cloud services can be helpful here to make room for other files. Depending on the nature of your business, it might be something to consider.
2. External hard drive
It may seem old school, but the next step when backing up and securing your IT data is to use an external USB hard drive. This is simply another step to ensure that you don't lose any data. Some people find reassuring that you can see the physical act of backing up. Simply plug it into your laptop or computer regularly to ensure that the backup takes place and store it somewhere safe.
Of course, one of the cons of backing up using a USB hard drive is that it could also get broken or damaged. So, make sure you use it alongside the other steps to ensure a seamless backup strategy.
3. Internet services
The internet has brought a variety of amazing services to its users, and it doesn't stop with the backup of data. Whilst cloud storage services store your data, services like Backblaze back it up for you automatically.
So, if you're running your own business, the next step may be to invest in an internet backup service of this nature. However, they do cost money, and it's important to do your research and find out which service will be the most beneficial for you and your company. But how do they work?
For a low monthly fee, these programs run on your devices in the background and automatically back up your files to the service's web storage. If you ever lose those files and need them again, you can restore them - protecting you against any type of data loss, including theft, hard drive failure and natural disasters.
4. Multiple methods
The next step when backing up data is to use multiple methods. Whilst an external USB is a great way to prevent the loss of data, doing that alone isn't enough. Likewise, relying on one cloud storage system could cause problems if the company runs into any unforeseen trouble. Successful companies consider the potential issues that they could face and establish how they can best prevent any data loss from occurring.
5. Automate
After you have chosen your preferred methods - of which there should be many - the next step is to make sure that your services are working properly in the background and are automated. This means that you don't have to remember to schedule the backup - because your service does it automatically.
6.Speak to an IT professional
If the thought of backing up data is a little overwhelming or you aren't sure where to start, the best thing to do is speak to an IT professional. They will be able to advise you on the best services for your business and help to get your backup established.
Likewise, if you are already backing up your files regularly, it can still help to get further guidance. IT professionals are experts in this area and will make sure that your data is protected in the best possible way.
Copyright 2020. Featured post made possible by Infinity Group