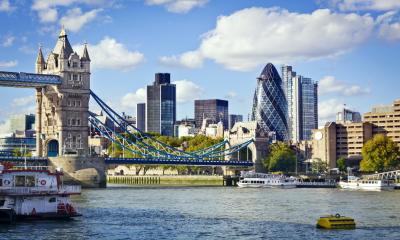 London is not just one of the premier financial capitals of Europe, it is also one of Europe's leading start up hubs, with a growing number of start ups being registered every year. Even with the pending Brexit shake-up, entrepreneurs continue to be resilient and confident, and keep registering businesses.
The city continues to attract entrepreneurs and thought leaders from a variety of industries to build their businesses and meet others doing the same. Add all of that to London's status as a major tourism destination and the fact that it boasts a variety of top-notch conference and event hotels, and you have a recipe for a start up hub like no other.
It's no surprise to see that London hosts plenty of start up-focused events throughout the year to allow all those entrepreneurs to network and keep growing their businesses.
We've gathered the top conferences and events for start ups in London in 2020.
1. IoT Tech Expo Global
Like the previous year's event, the 2020 IoT Tech Expo Global will attract over 300 exhibitors and 9,000 attendees, over half of whom are director-level or above in their organizations.
For start ups, there are few better ways to make more useful contacts than this, but time is running out to reserve a spot - the event will take place on 17-18 March in London this year.
2. The Wearable Technology Show
Another technology-focused event, the 2020 Wearable Technology Show, brings together high-end wearable technology and representatives from more major companies than one can count.
Taking place on 10-11 March at the Business Design Centre, this show is the largest event of its kind and offers founders and start ups a great chance hear from and network with top names in wearables, digital health, AR/VR, and IoT.
3. HyperGrowth 2020
As the fastest-growing start up event in the world, HyperGrowth 2020 is set to draw legions of innovators, growth hackers, and business leaders to London on 6 May. They'll all be there to meet, learn, and grow - all with an eye toward shaking up their fields using the knowledge they gain there.
Start up founders and entrepreneurs should make every effort to join them.
4. London Tech Week
Beginning on 8 June, London will play host to its annual Tech Week. This week brings together more than 58,000 members of the technology industry, to attend over 300 events focused on every technology topic imaginable.
For start ups, it's an opportunity to see the latest and greatest in technological innovations and meet new vendors who might help push them to new heights.
Since it's such a major event, expect all major hotels with meeting rooms to sell out early, so event organizers should act fast to not miss out on the best conference hotel and event venues.
5. Unbound London
Imagine an event where brand representatives, executives, and investors all gather for the express purpose of discovering the next industry disruptors. That's exactly what Unbound London delivers each year. It's all happening on 17-18 July, and no entrepreneur should miss it.
6. TECHSPO London
TECHSPO London is a yearly two-day event showcasing next-generation technologies in the Internet, Mobile, AdTech, MarTech and SaaS spaces. It's a great place for founders to learn about emerging technologies and feed their need to be on the cutting edge of the latest tech.
This year's event is being held on 3-4 September at the Sofitel London Heathrow Hotel, turning the largest conference hotel in the Heathrow area into a future technology wonderland that must be seen to be believed.
7. Startup Grind Europe
This yearly event is returning to London for the fifth year, bringing 200 start ups and thousands of attendees together for a unique opportunity to learn, meet others in the start up space, and network to help them grow.
This year, the one-day event will be held on 9 September at the Business Design Centre in London, and is a must for every founder and business owner to attend.
8. Digital Transformation Expo Europe
The yearly Digital Transformation Expo Europe event showcases the latest in IT developments from digital security solutions to VR and AR gear. It's a place to meet and interact with over 300 exhibitors from the world's leading IT firms and vendors, and see what technologies could unlock a start up's potential and turn it into the next success story.
9. Festival of Marketing
Since no start up can succeed if nobody knows about it, attendance at the annual Festival of Marketing on 7-8 October at Tobacco Dock should be all but mandatory for start ups of all stripes.
Join the event to learn about the latest trends in multichannel marketing right from the experts, and make contact with the agencies and marketers you'll need to turn your start up into a household name.
10. The Great British Business Show
A veritable one-stop-shop for start ups and founders, the annual Great British Business Show offers a rare chance to take masterclasses on a variety of start up-focused topics, and learn what it takes to succeed from the ground up.
There's even an opportunity to pitch ideas to investors included in the event - and tickets to attend are free. This year's event happens on 18-19 November. Individual masterclasses fill up fast, so those interested in attending should reserve a place now.
Of course, these aren't the only start up events that will take over parts of London this year - they're just the ones that no founder should miss. London, though, is home to countless smaller organizations and start up-focused gatherings that are worth attending, too.
Overall, London is an excellent place for anyone trying to launch a start up - and as the above events make clear, there's no shortage of places to go to gather everything needed to build a thriving and growing enterprise.
Copyright 2020. Article made possible by Andrej Kovacevic