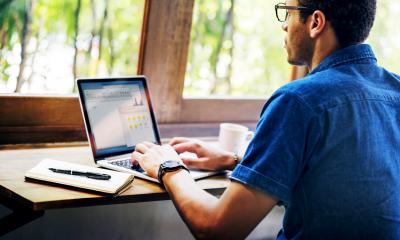 There is no doubt we're living through strange times with lots of change in a short period of time. It's difficult to tell what the next three to six months will hold or what the impact will be on business' moving forward.
It can be easy to make a knee jerk reaction in such circumstances without really thinking through what the best course of action is. We encourage you to spend a bit of time in the research and planning before making any major shifts.
No-one knows how long this will last, or the long-term impact, it's up to all of us to steady the ship through this time.
Hopefully, this post will help you to create a list of tasks you can carry out during this crisis to steer yourself and your business in the right direction.
Short term tasks
Communication is key
The first step is to communicate clearly with everyone you are connected to in your business. This could just mean a quick email or perhaps you need to give someone a call or a chat on Facebook live. We've broken down the key people you might want to communicate with.
Communicate with your clients
If you're a product-based business, your clients are going to want to know if you are still open and if you are offering delivery. Many cafes and restaurants have set up a delivery service which is an excellent way to support the community and continue to generate revenue.
You can also offer reduced rates to existing and past clients during this time. Remember that everyone is in this together and a little flexibility can go a long way in maintaining relationships. For bricks and mortar businesses, the government has declared that only essential services may stay open. For your reference, we've included the list below:
supermarkets and convenience stores
off-licenses
banks
pharmacies
post offices
market stalls selling food
restaurants and cafes that offer a takeaway service
bicycle shops
Communicate with your online community
Make sure you have clear messaging on your website and social media profiles. This should reflect the messaging which you have delivered to your clients. Pin posts where possible on social media profiles so the communication is clear and doesn't get lost.
Communicate with suppliers
It's important you know what your suppliers are doing during this time so you can plan around their activity. If you need help with payments, you may find suppliers are more understanding if you start communicating with them early about the impact of COVID-19 on your business and how you are resolving issues.
Communicate with your staff
This is clearly a difficult and worrying time for staff who will be concerned about losing their job. Ensure you keep staff up to date with any changes you are making in the business and what you are doing to steady your ship.
Reassure them that you are doing everything you can to keep their jobs safe. Before making the decision to let go of your staff make sure you have fully understood everything the government is doing to support businesses by checking Coronavirus Business Support. There is a lot of financial aid available to help your business through this time.
Submit your tax return
For the self employed who need to access help from the government at this time a support package has been created. If you haven't filed your tax return for 2018/19 yet, you must do it asap in order to be eligible for the finance.
Access Finance
The government has announced a range of financial support for businesses. Whether you are self employed or a business owner, it is likely that you will be able to access some kind of financial aid during this time.
If you are finding it difficult to understand what you might be eligible for, how to apply, or, how best to use this support for your business, it is well worth speaking to an accountant who can advise you.
Prioritize digital marketing
Lots of businesses, particularly in the education/learning/fitness/health sectors, are taking to Facebook live so they can keep in touch with their community and offer them support through this time. To get a good idea of what I mean, join The Zoe Rose Movement and take a look at her live streams and fitness videos she is creating for her community.
Many educators are also turning to digital platforms to grow their community and provide support. There are examples of primary school teachers and local music groups like Music and Me who are doing the same thing. It's worth joining groups like this to get an idea for what others are doing.
Classes can be taken online using Zoom, Google Hangouts, Facebook Live and YouTube. The tech is there, it just takes a bit of creativity and some enthusiasm to make it work for your business.
Short term financial planning
Make sure you have a really solid understanding of your business finances over the next 3 months at least. Track all of your costs and ensure you are budgeting for this period. Financial aid from the government may take time to come through so you'll need to make sure you are planning well. This is a good time to cut costs which are not vital for your business.
Mid term tasks
Skill up
If your business cannot operate during the current climate and you find yourself at home with nothing to do, this could be the perfect time to gain skills which will help your business in the future. You might want to look into industry-specific courses, or, you could look into doing a Masters in Business Administration. The EU Business School offers an online MBA with start dates in April. You'll learn management skills, accounting, marketing, organizational behaviour, as well as other important skills a business owner needs.
Create an online course
Where appropriate, it might make sense to create an online course for your community. This is particularly relevant if your community can utilize Facebook live. Many businesses in the education, fitness and health industries have already taken the opportunity. But other industries can also benefit. For example, a plumber might create a course teaching their customers replace a washer. Or, a handyman might create a quick course on how to hang a painting, a mirror or put up some shelves.
Get healthy
It's important for everyone to take care of their health right now. If you find yourself some extra time, use it wisely. We're allowed to go outside for some exercise once per day. This could be a good time to take up jogging.
Vitamin D and C are two essentials to keep your immune system strong, so make sure you are taking regular supplements or eating foods packed full of them. If you've been thinking about moving to a more plant-based diet, this could be a great time to start. If you're a vegan, then you are more at risk of having lower vitamin D levels so this is particularly important for you.
Help the community
This is a time for everyone to pull together. Facebook groups have been set up in many communities to offer support to the vulnerable during this time. Check Facebook groups to see if you have one in your area and if you don't, why not set one up. It is likely the NHS is going to be incredibly stretched so we all need to do what we can to help one another out.
If you have spare time then you can volunteer for the NHS (currently only in England, however, Scotland and Wales may follow suit) and help out with vital services like food and medication delivery, patient transport or emotional support. To show your solidarity with the NHS put up a rainbow picture on your window
Quality family time
It's easy to forget the simple pleasures, but lockdown can create an opportunity for the whole family to get together and spend some quality time with one another. The first few days might seem strange but as soon as watching back to back episodes on Netflix gets boring it's likely your kids will come off the screen and want a chat or play a game. If you have the time, try to be there and present with them at this time. Who knows when we will have the opportunity again to spend an unexpected few weeks or months with our family.
Facetime friends and check-in
You can also use this time to reach out to friends you haven't spoken with for a while. Check-in with them, share your experience (and have some laughs!). There has been many a friendship renewed during this crisis.
Long term tasks
Year-end financial planning
Once you've got the short and mid-term items checked off, you should be feeling a lot better about the situation! This is when you can start to think about long term plans. Creating a financial plan should always be done with a clear head. Carrying out a risk assessment might be sensible to include in your plan and will help you work through potential outcomes so you can ensure the ride isn't too bumpy.
Competitor research
It's always worth keeping track of what your competitors are doing. How they react to the ongoing crisis can give you ideas and help you identify gaps in your thinking. Conversely, you might notice something they have done which you want to avoid. Don't be worried about picking up the phone and having a chat either, you might find that you can work with your competitors and support one another through this - after all, there is safety in numbers.
Start thinking ahead and planning for recovery in 2021
Finally, it's important to think about how this crisis might impact your business in 2021. It's impossible to be too detailed since we don't know all of the ramifications. But it will help to have some idea of potential outcomes if you can start to think things through. A risk analysis could be a good document to create at this time.
We hope this article has given you a starting point and sparked some ideas. A strong leader does not panic or react out of fear but takes a moment to review the current situation and take the most appropriate action. Raise a glass to solid leadership through this crisis and a down to earth approach to running an SMB.
Copyright 2020. Featured post made possible by EU Business School