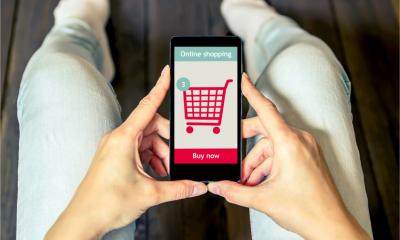 If you're reading this, then chances are you're struggling to increase the conversion rate of your ecommerce business or are looking to boost it further.
There are between 12 million to 24 million ecommerce sites in the world. If you don't follow conversion optimisation best practices, you risk getting lost in the crowd.
Let's have a look at the top five conversion rate optimisation practices you should follow.
1. Prioritise customer experience
You might have heard that "the customer is king". That's true. After all, they are the ones boosting your revenue. So, it's essential to ensure they get the best possible experience when using your website.
Smart advertising is the future of marketing and customer experience plays a crucial role in it. One of the biggest benefits of improving the customer experience is that they're more likely to remember your brand and refer your website to their friends and family.
Use analytics tools like Finteza to understand who your customers are and what they want. It allows you to create multi-level conversion funnels and analyse customer behaviour at all stages of the sales process. You can check what pages each customer has visited on your store along with their details (like device, location, and browser).
The more information you have about your shoppers, the more you will be able to improve the customer experience.
Improving customer experience also includes offering personalised recommendations based on browsing behaviour and purchase history.
Amazon, for instance, excels at offering personalised recommendations. They have a dedicated section on the homepage that shows products based on purchase history.
2. Ensure your web pages loads quickly
Site speed plays an integral role in boosting your conversion rate. When your site loads in one-second, the average conversion rate is 31.79%. Website conversion rate decreases by an average of 4.42% with each additional second of load time (between 0-5 seconds).
Site speed also impacts your website's ranking in Google both in mobile and desktop devices. Therefore, it is crucial to ensure that your site loads as quickly as possible.
Use tools like PageSpeed Insights to analyse your site speed. It scores your website speed from 0-100 (<49 indicates that the site is slow, 50-89 indicates the speed is average, while >90 means your website performance is among the best). It also provides suggestions on how to reduce page loading time.
Another way to improve website speed is by using a CDN (content delivery network). A CDN stores various copies of your website in multiple servers, and when someone visits your site, it sends a copy of your ecommerce store from the nearest server, thereby boosting site speed.
CDNs use machine learning to efficiently cache your dynamic pages while ensuring content freshness. It also minimises page rendering time, minifies files, and leverages frequency analysis to deliver the most commonly accessed pages directly from RAM. This further reduces the page load time.
3. Eliminate price shock
More than half of the consumers abandon carts due to unexpected hidden costs during the checkout process. Therefore, it is essential to eliminate price shock.
If you charge shipping costs, make sure you display it upfront (in your product pages). This will eliminate the shock factor of discovering hefty additional charges at the last stage of the buying journey.
You can either use a delivery calculator tool to calculate shipping costs based on customers' locations or decide a fixed shipping cost.
For example, Nordstrom uses a delivery calculator to show estimated shipping costs based on the user's location in its product pages.
It's not only about shipping costs, but it also includes other additional costs, such as sales tax. If you can't display the expenses on the product page, it is best to add a disclaimer to reduce price shock.
4. Leverage retargeting and remarketing
Retargeting refers to using ads to target visitors who left your site without making any transaction. Retargeting can help increase the conversion rate by up to 150%.
Retargeting allows you to target individual users with specific ads with the goal of converting them. These campaigns work because the user has already shown interest in your product. You can apply copywriting techniques to persuade people to take action.
There are various platforms where you can run retargeting ads, including Google, Facebook, and AdRoll.
Remarketing refers to sending sales emails to your customers who abandoned their cart or left items in their wish list.
Make sure you personalise the retargeting emails to increase the chances of conversion. Also, include a call to action (CTA) to redirect users to your website directly from the email.
I received a hyper-personalised remarketing email from Mercato, an online grocery store, when I abandoned my cart. The subject line reads, "Your grocery cart is still waiting for you", reminding me that I had left my basket. It also contained a CTA (complete your order), which took me directly to the checkout page.
5. Build trust with your customers
People buy from someone they trust. Therefore, you need to build trust with your customers from their first visit.
One of the best ways to do it is by displaying trust signals on your ecommerce store.
Here are a few ways to show trust signals on your website.
Install an SSL certificate.
Highlight contact information (your office address, phone number, and email address).
Show product reviews and customer testimonials.
Highlight return and refund policy on the product's page.
Add your social account links to make it easier for your customers to reach you. The easier you are to reach, the more trustworthy you are.
Use third-party badges and certificates to show customers that their payment information is secure.
Walmart is an excellent example of a brand demonstrating trust signals throughout its website. They show reviews on each product page along with their social channel links.
Final thoughts
Many ecommerce store owners struggle to improve their conversion rate despite providing quality services. Make sure to follow these conversion optimisation techniques, and you'll see a significant increase in your revenue. Happy online selling!
Copyright 2020. Post by Joydeep Bhattacharya of SEO Sandwitch Blog.