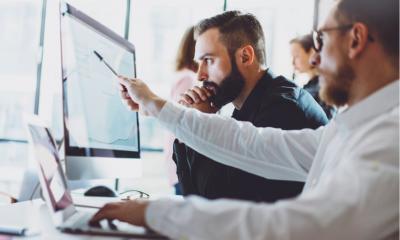 If the COVID-19 pandemic has shown businesses anything, its how dependent they are on their IT systems. After all, it would have been impossible for millions of people to work from home without the technology and software to support it.
Managed IT services used to be the de facto way to support your IT systems. Over time more companies (especially startups and small businesses) started to go it alone. This was due to a number of factors including lower hardware costs and support becoming available on am ad hoc basis.
Managed IT services are now beginning to be viewed as an essential service once again. Businesses of all sizes can benefit but they are particularly useful for startups and small businesses who would be unable to manage the impact of a serious episode of downtime or a cybersecurity attack.
Managed IT services can support your entire IT infrastructure to ensure that it is problem-free and secure.
Below are some of the benefits of managed IT services.
Managed IT services in a nutshell
A managed IT services contract allows you to use a professional company to support your IT needs. This can include your telephony, network, managed firewalls, security, and hardware. The managed service provider takes the place of an in-house IT team, or to work alongside them (more common in larger organizations).
Different from an ad hoc or break/fix contract, a managed IT contract includes a fixed cost for a stated number of services and a Service Level Agreement (SLA) on the fixture of any issues.
Typical services provided include:
network and infrastructure setup and monitoring
IT helpdesk
cybersecurity (breach detection, antivirus, firewalls, DMZs, and malware protection)
cloud services management
data backups
IT compliance
performance management
unified communications and remote working
SaaS
hardware and printer repair
Cost control
Startups, by their very nature, look for ways to control and reduce costs. While it might seem a good idea to only call on IT support when something goes wrong, this can be a risky move. First of all, you will not have an SLA in place which guarantees a response to your issue within a certain time frame. The best you will get is a company to look into it on a 'best endeavour' basis. Depending on the extent of your problem, the cost to fix a serious issue at short notice could easily exceed the annual contract price on a managed services contract.
Then there is the possibility that your problem will have prevented you from doing business or servicing your customers, costing you even more in potential revenue.
A managed service contract is a fixed, predictable cost.
Your contract cost can be based on a number of pricing structures including:
per-user - a fixed fee for every employee who uses your IT systems
per-device - a fixed fee for each device that is supported (laptop, desktop, printer, etc)
tiered support - costs are calculated using a cost per-service you need
comprehensive contract - one flat fee for all services, rather than bolting on each service separately
Reduction in employee costs
Depending on the size of your company, using a managed service provider may allow you to dispense with hiring an in-house IT team altogether. Not only will you save on recruitment, salary, and other employee costs, but in such a highly skilled industry where pricey ongoing training is vital, you can avoid those costs too.
Scalability
As you already have access to professional IT consultants, who really want to keep your business, they will be more than happy to give you advice on scaling your business successfully. Not only will this save money on ad hoc IT consultancy, but it will also ensure your IT will always be appropriate for your business.
Less downtime
Any periods of system downtime can be crippling to a startup. The damage could be financial as well as reputational. If your downtime starts becoming a regular thing, your clients will begin to lose trust in you. You could start to see an increase in client turnover and a reduction in referrals.
With a managed services contract, your systems can be monitored day and night, allowing problems to be prevented in advance or fixed very quickly when they do occur.
Access to the best technology
With access to cutting edge IT support, you'll always be informed about the latest software versions and technology.
Increased competitiveness
Startups or SME's with small IT teams take much longer to research and implement updated IT solutions and hardware. This costs time and money, which can eat into your profits or which have to be passed on to your existing and future costumers.
Increase your focus
Often in a startup, people wear many hats and this can pull focus away from their core responsibilities. IT can be time-consuming. Using the services of a managed IT team will free you up to focus on other things.
Business continuity and disaster recovery
If something serious was to happen to your business premises or your IT systems were somehow incapaticated, it's possible your business would be unable to operate. To some extent the COVID-19 crisis has forced many businesses into this exact situation. The ramifications of COVID-19 is likely to lead to increased restrictions and regulations in the future.
It goes without saying that covering yourself against the worst happening is good for business. But there are also other reasons that this might be beneficial too:
Contract stipulations - often, when you are tendering for a lucrative contract, there are conditions that require your business to have certain policies and protections in place. This includes robust business continuity and disaster recovery plans. Clients want to know that they can trust their suppliers to maintain service levels should anything happen and not suddenly go out of business.
Insurance - business insurance policies require you to have taken certain steps to reduce or mitigate risk factors for your business. This can include remote working policies, health, and safety and business continuity plans.
Copyright 2020. Article was made possible by site supporter Jeremy Bowler