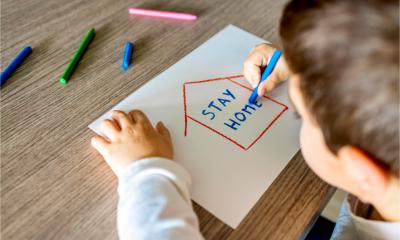 COVID-19 has spread heartbreak and upset across the globe. But as we work to combat this deadly disease, we must stand together and take action to protect ourselves and others.
As a community, we can beat Coronavirus.
All businesses have felt the impact of COVID-19, but small businesses feel the most vulnerable. The rapid change to your working environment will feel weird, but it's something you will learn to adapt to as a business.
It's our job to help you market your business through this crisis so you can come out stronger the other side. While there's still a lot of uncertainty surrounding marketing, you can start to build a scalable strategy that will allow your business to grow in its own unique way.
STAY POSITIVE and you will get through this!
Notify your customers
Whether you're a bricks and mortar retailer that has completely shut down or an eCommerce store that's functioning better than ever, you need to keep your customers up to date.
There's lots of ways to notify your customers but I recommend contacting your paying customers via email and keeping your website visitors up to date through a call to action (CTA) button on your website.
Here are some COVID-19 email guidelines:
only share relevant information
keep messages short and sweet with clear headings
be respectful of those who may be sensitive to the crisis
let customers know whether you are still open for business and if so, under what circumstances
supply links for more information
provide customers with a gift, such a discount code or other offering

It's almost certain that that every business has sent their customers an email titled "How we're handling COVID-19". If you follow this trend your email probably won't be opened. Changing the email subject to "A message from our CEO…" will give your message a higher perceived level of importance, increasing its chances of being opened.
How should you update your website visitors?
A CTA button or announcement bar on the homepage of your website is the best option. Make it obvious. It needs to be large, vibrant and link to a page with more information. You could create an announcement bar that is specific to your business. Including links to additional resources will add value to your message.
Be resourceful
At the moment, your focus is probably on the things that you could be doing but can't and all the negatives that surround your business - but this needs to change!
Although it's difficult to be productive in times like these, it's important that we make use of the resources we have at our disposal and carry on with a smile on our faces. The activity you chose will be specific to your business. However, it should revolve around your customers.
Here are some ideas to spark your inspiration:
Blogging - With all the extra time on your hands, there's plenty you could be writing about, whether it's resources to support your customers during the crisis, or an interest you are passionate about. Keeping an active blog will let your customers know that you are still up and running so they can continue to engage with you.
Surveys - There couldn't be a better time to listen to what your customers want to see from your business when it reopens. A short survey will do just the trick. Offering a reward to customers that complete the survey is a great way to incentivise your audience.
Planning - Scheduling your online content for the future is an effective use of your time that will let you focus on more pressing tasks once you reopen and business kicks-off. At The Good Marketer, we love Hootsuite.
While you can't interact personally with your customers right now, you can engage with them in exciting ways online instead. You may even discover something that you can utilise when the crisis is over.
Here are all the key events in May that you can help you design content!
(Image source: make a website.hub)
Today's action
The most important thing you can do today is to communicate with your employees and reassure them with your plan of action. Explain to them how your small business will beat COVID-19.
Although you might not be able to provide them with your whole strategic plan, being as transparent as possible with your employees is important. Regular team meetings will keep everyone up to date on the latest news and give staff a better understanding of the actions you are taking.
Admittedly, there is still a lot of uncertainty surrounding the crisis so you won't have all the answers, but communication will help minimise the panic.
We urge you to keep your customers informed in a matter of fact way. Try to differentiate your message from the thousands of other businesses out there. And add a CTA button or announcement bar to your website that provides relevant information and resources to your customers.
On the topic of resources, make the most of what you've got. Drawing the positives from this situation will allow your business to remain strong through the struggle and come out stronger on the other side.
You might even learn something from the experience.
Your business may be suffering from COVID-19, but your customers are struggling too. So listen to your customers and provide them with support - fight this as a community!
Conclusion
As a small business, we understand first-hand how difficult these times are, so if there is anything we can do to help, please let us know.
But for now, remember the following:
notify your customers as soon as possible (via website/email)
create an engaging email subject
adapt and become resourceful (why not start a blog?)
Plan ahead so you're ready and waiting when business returns to normal
Communication will keep your relationships with your team and customers alive through COVID-19. So, schedule regular meetings and keep your customers updated on the relevant stuff.
Copyright 2020. Featured post made possible by Tom Welbourne of The Good Marketer, a marketing agency in London which drives more traffic, generates conversions and increases sales for small- to medium-sized businesses