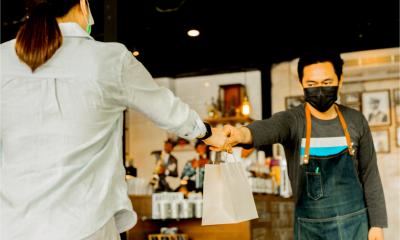 As Italy and Spain start to ease their coronavirus restrictions, people here in the UK are starting to believe that an end to the lockdown may be in sight. But with government warnings that any easing of the rules must ensure there is no second spike of infections, what might a back-to-work plan look like?
Over recent days, speculation and 'leaked plans' have started to circulate. The Government has stated that it will make an announcement on Sunday about the 'hows' and 'whens' various businesses and organisations will begin to return to normal. What we do know, is that a new virus tracking app is likely to form a key component of the lifting of lockdown.
Coronavirus contact-tracing app
A trial has begun on the Isle of Wight of a contact-tracing app. The app uses Bluetooth technology to record when two people with the app are within two metres of each other for 15 minutes or more. If a person with the app then later reports coronavirus symptoms, all people who have been recorded as having met those criteria will be alerted, assessed and, if necessary, told to self-isolate.
If the app is successful and is rolled out across the UK, it is possible that different regions of the country move out of lockdown on a different timetable to other areas. It is also likely that different industries and sectors will be re-opened at different times depending on how essential that sector is deemed.
Returning to work after the lockdown
While it is likely to be some time before things return to normal, there are some things you can do now so start preparing for a gradual return to business.
Assess your workplace
You need to assess the work your staff carry out, where they do it, how they do it and who they are likely to encounter as part of their working day.
If staff can work from home, they should continue to do so. It is the safest place for them.
Assess whether staff currently on furlough can work from home when they return from furlough. Review the work they normally carry out, what tech they might need to facilitate home working and their personal circumstances. Have they, or anyone they live with, been told they are at higher risk of infection? If so, working from home might be the only feasible option until restrictions are fully lifted.
Assess the risks posed by your workplace. If you have your own office or building it is easier to control who uses the space and how they use it. It is also easier to control safety measures such as cleaning, access to hand sanitisers and how close people work in proximity.
If you use a shared workspace, hotdesking or open plan office, you may deem it safer to continue working from home for the foreseeable future.
Assess how staff get to work
If staff must come in to work to carry out their job, can you stagger start and finish times?
Review how staff normally get to work. Are there safer options that avoid public transport? Can they walk or cycle? Is driving to work an option? Would you have enough parking spaces for people to drive to work if you only have essential staff coming into the premises. It has been suggested that those using public transport will be required to wear a face mask and check their temperature before leaving for work.
Review measures in the workplace
Maintain social distancing in the workplace. You may only be able to use every other desk or workstation. Think about entry and exit points and how people move around the space to complete their work. Can you ask staff to enter the building through one door and exit through another?
Close or limit access to communal spaces such as waiting areas, kitchens and rest rooms. Could staff bring in their own reusable cup which they take home to wash at the end of every day?
Limit face-to-face meetings. Make use of communication and collaboration apps so people can work together remotely.
Consider whether staff and customers should wear personal protective equipment? Make sure you have enough hand sanitising points and a more frequent cycle of cleaning.
Can you install shields or barriers that will separate staff from each other and the public?
Do you use company vehicles? Consider allocating specific vehicles to specific individuals to limit the number of people using each vehicle.
If you serve the public, can you provide your service by delivering it to them electronically or physically rather than having them collect in person? Can you facilitate online ordering and payment?
Return to work advice for specific types of business
Employees and returning from lockdown
It is likely that many staff will be nervous about returning to work as restrictions are gradually lifted. You should consult them about plans as they are likely to be best placed to suggest how a safe return to work might be possible. Give staff plenty of notice about returning to work - especially those with care responsibilities (it is unclear when schools will re-open at this point).
Consider the mental health of your staff. They may have experienced bereavement, financial difficulties and isolation during the lockdown. Mind has produced practical advice on taking care of mental health and has the NHS.
A final note of caution
As lockdown measures are gradually lifted, it is entirely possible that infection rates will begin to climb again. You should be prepared to make contingency plans. Review what has worked during lockdown and what measures could be improved in case the country needs to revert to full or partial lockdown.