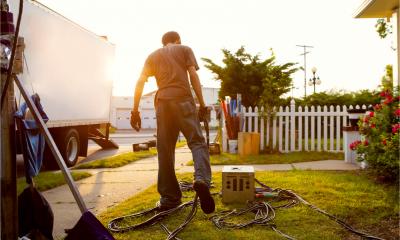 When it comes to starting a business, the perfect new enterprise might be closer than you think.
Today we're looking at money-making ideas that can help you make use of one of your biggest assets (your home) to bring in some cash.
We've compiled this list towards the tail end of the COVID-19 lockdown and we have made the assumption that one day, things will return to pre-pandemic normal. That said, readers should bear in mind the impact a calamitous event could have on their home enterprise and exercise caution when considering finances, property alterations and so on.
So, with our optimistic hats on, here is a list of ways to get your home working for you!
Make your home famous. Register your home to be used as a location for a film/TV set. Watch almost anything (television or film) and there will be an outside, non-studio location. Location managers scour the country for the right look, be it for a period drama or gritty new police drama. If your home is in keeping with a certain era, so much the better – it will save set designers having to alter too much. An average home in London will bring in around £500 a day and many owners say it is a fascinating experience too.
Rent it. AirBnB has made it easier than ever to rent either part of or your whole home when you're away. Jonathan Rolande, a property buyer at House Buy Fast told us that a friend with a smart London home would travel to India for a three month holiday. After packing personal items away in a locked cupboard, would rent out his home which more than paid for the entire holiday (we don't know if he went economy or first-class though). A one bed flat in ever popular Brighton can fetch £100 a night in August.
Photoshoots. Less intrusive than TV, homes and gardens can be listed for photoshoots. So called 'extreme' homes are the most popular. That's not just the stately home variety, but also urban homes, quirky or unusual properties are good too. Shoots usually last a matter of hours rather than days and pay up to £1,000 a day.
Use your space. Live near a station or busy location? Rent your driveway or garage – even a shed. You'll be surprised how many people need extra storage and will be willing to pay for it. Price depends on location but £10 a day for a driveway isn't unusual in popular areas.
Just work from home. Save the commute, the time and effort needed to work in an office. You can also ask your employer for the £6 a week payment that HMRC allow to cover extra costs. You'll need good broadband and a bit of quiet space and you're good to go.
Turning your home in to a money-maker can be fun, financially rewarding and even interesting but don't forget that it is a business too. You'll need to look at tax implications, whether your home insurance needs to be changed, possible planning restrictions and check that your ventures aren't prohibited by your lease (if there is one).
Do your homework and take advice before you begin. Perhaps most importantly – for a while at least, look on any money you make as a bonus. Don't rely on it too much. Rules can change, a pandemic can hit – suddenly filming stops, people aren't renting rooms, rented driveways are empty when commuters stay home. Consider everything you can and if you go for it, enjoy the extra £££'s!
Copyright 2020. Featured article by Jonathan Rolande of House Buy Fast, founder of the National Association of Property Buyers