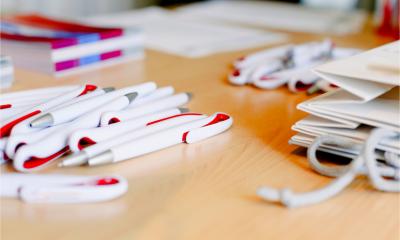 Finding suitable ways to promote your small business on a budget can be challenging - especially during these uncertain times. It's essential you increase your brand's visibility and improve its image. The difficulty is finding a way to do so that is both inexpensive and effective. One such strategy to increase your audience is to create promotional items. Interested? Before you go ahead, read our tips below first!
Personalised stationery
Personalised stationery items have been around for a while, but this doesn't mean they are out of style! In the past, these items were churned out mindlessly to clients at the lowest possible price. However, your aim should be to create a promotional item that your customers will actually use. Learning a little more about current trends and customer preferences can help you create a more appealing product. By doing so, customers are more likely to use the item - making them a brand ambassador for your company without any additional effort!
Therefore, when picking the type of stationery you want to brand and give to customer, it is essential to understand the market. For example, many professionals are working from home at the moment. An educated guess would suggest that some of them will struggle with time-keeping and to-do lists. Therefore, it is the perfect time to create agendas and planners to help them get organised - and remind them about your business in the process!
Wearables
Some examples of promotional items in the wearables category include lanyards, pins, phone wallets, and PopSockets. If your client is to wear your promotional item, they will need to be proud to show it off. This means the promotional items you create must fit your client's taste.
One of the best ways to do this is to create a customer persona for your business. This will help you understand your audience's preferences much better. Once you have done this, a specialized firm, such as a lanyard company, can help you craft items that are unique to your business and tailored to your customers' personal tastes or interests.
Stickers
Stickers are another way of increasing the visibility of your brand. People happily stock stickers on their diaries, notebooks, laptops, reusable water bottles and phones. This means stickers are always under the eye of another potential customer. Another reason why stickers are one of the best options for small businesses is their inexpensiveness. Since they are incredibly affordable and customisable, small business owners have the freedom to craft a design and message that can portray the company in the best way.
Reusable items
If your budget is a bit bigger, it's worth considering investing in reusable items. Indeed, many environmentally-conscious customers won't appreciate a single-use, plastic item regardless of how much they may love your brand. Consider sending them a branded reusable coffee cup, water bottle or cutlery.
The reusable, green movement can offer many opportunities for a growing business - especially as few small companies have leveraged this trend. While buying branded reusable coffee cups might be pricier than other options, your clients are likely to use them again and again. This means your messaging has a much longer shelf life and is likelier to be seen by many more potential customers. It also demonstrates that your business is forward thinking and more environmentally conscious.
Copyright 2020. Article was made possible by site supporter Jeremy Bowler