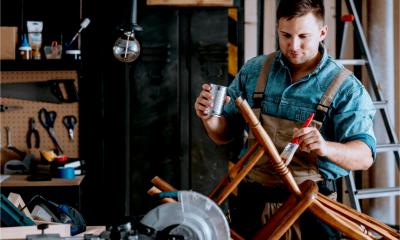 Recently, there has been a wave of interest in self-employment. It makes sense.  COVID-19 has proven that many industries aren't as resilient as once thought. And if you can achieve self-sustainability, why not try it now?
But while it's exciting to build something of your own, you need to make sure you're square with HMRC. To help, we've asked Mike Parkes from GoSimpleTax for his guidance. Here, he walks you through everything you need to know about tax when working for yourself.
Register with HMRC
First things first, you may need to set yourself up as a sole trader. This involves the fun task of deciding on your business name.
Then, provided you earned more than £1,000 in the last tax year, you need to register for self assessment with HMRC. Although it's not an immediate legal requirement, you will have to be registered by the 5th October of your second tax year. If you aren't, you risk being penalised by HMRC. So, it makes sense to get it done sooner rather than later.
To register, you will need to fill out one of three forms depending on the circumstances in which you're entering self-employment:
Going self-employed for the first time and have not previously filed a self assessment tax return
Going self-employed for the first time and have previously filed a self assessment tax return
Registered as self-employed previously
All three forms can be found on the GOV.UK site.
For those who have not submitted a self assessment tax return before, you will be sent a 10-digit Unique Taxpayer Reference (UTR) number following your initial registration. Your UTR will subsequently be requested in almost all interactions you have with HMRC moving forwards. It takes up to ten days to arrive in the post, so don't leave your registration to the last minute or you'll run the risk of missing the self assessment deadline.
Need help with your self assessment tax return?
GoSimpleTax makes your self assessment tax return quick and easy, helping you figure out which expenses and allowances you can claim.
Know your expenses
When it comes to self assessment, trust me when I say that expenses can make all the difference between being profitable… and being less so.
Now, we all know that sole traders can claim for some of their tools, travel and home office equipment. But what you might not know is that you can also claim for pre-trade expenses – in other words, items you purchased before trading to get your business to a point where it could open successfully.
This includes expenditure like:
Advertising – Your business won't survive on word of mouth alone, so be sure to hold on to receipts for any offline or online media marketing you invest in.
Rent for premises – If you rent a space purely for business purposes, then that too can be classed as an allowable expense.
Insurance – Whether it's employers' liability insurance or public liability insurance you're after, both can equally be covered by expenses.
What's more, these pre-trade expenses may include items you own privately that you're now going to use within your business, like a laptop.
Claiming these expenses through your self assessment tax return helps to further reduce your tax liability and maximise your take-home pay.
Keep records
It goes without saying that you can't claim for anything if you don't have accurate and up-to-date information. And this isn't just for the purposes of your expenses either. As a sole trader, you are obliged to keep clear records of all business transactions.
That means receipts, invoices and bank statements all need to be available should the taxman require you to present them when under enquiry or investigation. There are also added benefits from doing this: it makes filling in your self assessment tax return easier and keeps you aware of any opportunities to reduce your tax exposure.
What's more, tax software like GoSimpleTax makes record-keeping easy. You can take a photo of your paper receipts and upload them to the app as you go so you never misplace or forget an expense again.
Sponsored post. Copyright © 2020 Mike Parkes, GoSimpleTax - tax return software that can help you manage your self-assessment