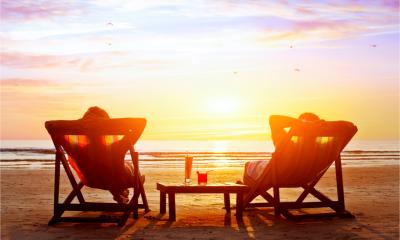 Starting your own business can be hugely rewarding, but it's fair to say that those who take the step rarely have a quiet day. After all, there are so many issues that need to be juggled every day.
From updating websites to meeting with potential clients, a whole host of tasks will be on the agenda. Taking on staff can help with the workload. On the flipside, recruitment itself takes up valuable time, while managing a workforce means addressing other issues such as salary and performance reviews, professional development and – of course – holidays.
How holiday entitlement works
Any start-up which takes on staff will be aware that annual leave is a core part of business and the vast majority of workers are legally entitled to it.
GOV.UK outlines how people can expect to get 5.6 weeks' paid holiday a year. For those who work five days a week, this will often mean they are granted at least 28 days of holiday – although an employer can include bank holidays within a staff member's annual statutory leave. Furthermore, a business is allowed to go beyond the legal minimum and offer more days if it wants to.
Holidays are hugely important, but there is no escaping the fact that managing the issue can sometimes prove to be a headache. There are many factors to consider, such as balancing the needs of different people, addressing occasional clashes when staff want the same days and ensuring you sufficient staffing levels at all times. Perhaps unsurprisingly, such issues have led to the emergence of tools designed to help businesses simplify the process. For example, as Timetastic's site explains, its own paperless planning option is apparently used by more than 8,000 different businesses.
More than another admin task
The complexities around holidays mean it's easy to view the issue as just another part of your seemingly endless pile of admin. However, it is important to recognise the benefits that holidays offer to employees, as well as how adopting a positive attitude and actively encouraging time off could have a big impact on your business.
With that in mind, we have pulled together five key reasons why time off is a good thing for staff. We also reveal how it could be your secret weapon as you look to drive your venture to a whole new level of success.
1. Staff value holidays
Last year, content marketing agency Fractl published a study which considered how highly workers regard specific employee benefits.
In the research, the organisation asked 2,000 people to rate the most important perks they look out for when seeking a new role. It revealed that 'more vacation time' was a key consideration when choosing between a high-paying job and a lower-paying role offering more perks. In fact, holidays only trailed behind health insurance and flexible hours in the final list.
Such findings highlight how having a positive outlook towards holidays could be attractive to potential new recruits. It can also demonstrate how you are tuned into the needs of your staff.
2. Leave provides a wellbeing boost
Another interesting study was published last year by employee rewards specialists Achievers. It offered some interesting insights into how holidays can give a welcome boost to staff.
HRNews.co.uk reports that the survey of 1,000 people found that 73% feel refreshed after enjoying some time away, while 85% regard such breaks as critical to their wellbeing in the work environment.
The illustrate how holidays can reinvigorate individuals and may help to keep them at the top of their game. With mental health becoming a massive talking point in recent years, actively encouraging staff to use their holiday allowance could be a huge help in terms of their wellbeing.
3. You can develop a healthy culture
On a similar note, back in 2018 The Guardian reported on an Institute of Leadership and Management study which found that 73% of workers actually feel stressed by the prospect of taking a holiday. In addition, nearly two-thirds also said they felt obliged to keep working during precious time off.
That approach is not likely to be a very healthy one. You should emphasise to workers that holidays are meant to be a break from work by discouraging them from checking emails and voicemail while on leave. You could even take it a step further and provide some advice on how staff can make the most of their free time, with guides detailing how people can maximise annual leave by attaching days off to bank holidays. For example, the site explains how by booking leave around the August Bank Holiday, people could get nine days off while just using four from their allowance.
Encouraging workers to use their holiday should you develop a positive culture in the workplace. Getting this right from the outset is important for start-ups, as such ideas may then be ingrained in an organisation from the earliest opportunity. This should hopefully mean that it remains a core value, even as the workforce begins to expand.
4. Great workers choose to stay
Getting your approach to holidays right may also help you retain your most skilled workers and prevent top talent from moving elsewhere.
As recruitment firm Robert Half explains in its look at effective retention strategies, paid time off is a key part of employee compensation and the right package can make a company hugely attractive. The organisation also outlines how holiday is a big part of creating the right work-life balance, while leave can even be used as part of rewards systems with organisations offering an extra day off as thanks for excellent work.
Holiday may well be important to those looking for a new role, but it is also vital to those within your organisation. People may choose to stay with you if they feel they are getting the time off they need.
5. Staff might form new ideas
While the days of imitating Mad Men's Don Draper and having a nap in the office may well be over, there is a lot to be said about how rest can help creativity. For instance, as Scientific American outlines, experts like Stanford University visiting scholar Alex Soojung-Kim Pang have written entire books on how a break can boost your ideas and productivity.
With that in mind, is it possible that an employee might return from a holiday both refreshed and full of new ideas? After all, we've all had those moments during downtime where we have been hit by a brainwave out of the blue.
Alternatively, staff may simply head abroad and spot how another brand or business is effectively tackling an issue which has emerged during your work.
A positive part of the world of work
It can be easy to view holidays as a disruptive element as you look to grow a business. However, the reasoning above will hopefully have highlighted why it can be beneficial to view them as a hugely positive thing.
Giving staff the time to switch off from work may not only keep them happy and motivated, but it could also generate fresh ideas and foster a positive culture as you look to develop your venture.
Copyright 2020. Article made possible by Hugh Daniels