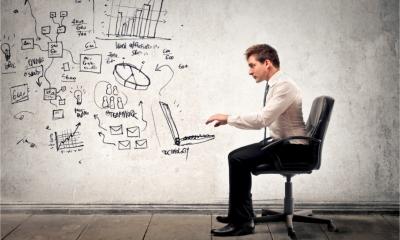 Although virtual offices are far from being a new concept (they originated way back in the 1970's), the benefits of a virtual office have only been widely appreciated in the last couple decades. At the same time, the rapid pace of technological change has meant that the virtual office has become an increasingly practical solution - particularly for start-ups and small businesses.
In this article, we'll outline the essential ways a virtual office can help you start your business.
Benefit from a prestigious business address
Probably the most essential and attractive feature of a virtual office is the professional business address it provides. Registering your business at a prestigious address allows you to bypass the costs and hassle of acquiring and maintaining an actual property in that location.
The significance of this is considerable. Individuals, be it potential clients or partners, invariably perceive businesses with a prominent address (typically in a city centre) as being more professional and experienced. A business without a professional address can be perceived as being small, amateur and possibly suspect to one degree or another.
In other words, prestige is a major advantage for a small business; and credibility is an essential attribute for any start-up to make a success of their business. A virtual office, you can equip your business with both these qualities from the start, putting you in a prime position to maximise your business opportunities.
Reduce overheads and liberate capital and income
Another important aspect of a professional business address is its affordability as it is relatively inexpensive to acquire one. Utilising a registered business address rather than a physical address (in other words a virtual address) allows you to bypass one of the major expenses involved in starting a business from scratch.
With your virtual office, you can effectively run your business from home, avoiding the time and expense of having to purchase the furniture and supplies needed in a traditional office - not to mention the maintenance costs involved in running an office. These savings not only afford you more options in starting-up your business, but they can play a decisive role in the success of your business going forward.
Get your calls answered professionally
One of the most popular support features offered by virtual office is a virtual receptionist (or virtual assistant). Using a virtual receptionist ensures that all your business phone calls are answered in a professional manner (your calls will even be answered in your company's name).
Your virtual receptionist will enhance the professional image of your business, but it also supports you in your start-up phase by absolving you of any worries concerning the answering of sales calls - freeing up your time and energy for more pressing and essential tasks.
Flexibility to scale your business
The virtual office is an inherently flexible business model. Virtual office contracts typically allow businesses increase and decrease the number of desks and level of service provided on an as-and-when basis. This means services are always in proportion with your business' growth.
In other words, the virtual office model recognises that businesses today are looking to avoid a long-term commitment to a fixed package and price point. Providers generally offer multiple levels of support to meet the needs of different size and types of business; which of course also serves the changing needs of businesses, particularly in response to progressive growth or sudden market downturns.
Significantly, this flexibility also applies to your staff as it facilitates flexible working. Since 'the office' is a virtual one, your employees bypass the need to commute to an actual office. Your staff can perform their work where and when is most suitable for them. This greatly benefits the productivity and happiness of your workforce.
Therefore, a virtual office can be a great help when starting your business. It provides a degree of professionalism, offers massive savings, gives access to a wide range of essential support services and, ultimately, an unmatched degree of flexibility that is invaluable for your start-up business to succeed.
Still not sure whether a virtual office is right for you? Your City Office has the complete answer to "what is a virtual office?"
Copyright 2020. Featured post made possible by yourcityoffice.com