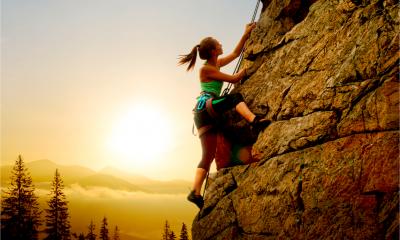 Working in an office every day until you retire may not be the dream career for everyone. Some yearn for the great outdoors, for adventure and something a little more active.
The UK is blessed with 15 national parks covering over 6,000 square miles. They offer mountains, moors and heathland, rivers, broads and waterways and some of the country's best coastlines. This wealth of space, differing terrains and waterways means there is scope for a wide range of careers for those looking to go a little 'off grid'.

If you're a lover of adventure, animals and nature or are simply looking for a career doing something a little less 9-5, these start up business ideas could be for you.
OK, so gardening may not be the most action-adventure of outdoor pursuits, but it is one of the top pastimes here in the UK. UK households spent around £7.5 billion on garden goods in 2017. If you love the outdoors but aren't necessarily looking for adventure, starting a plant nursery could be the business for you.
Outdoor activity centres can offer everything from rock climbing and zip lining to clay pigeon shooting, canoeing, quad biking, canyoning, surfing and orienteering, wild camping, wild swimming - in fact just about any activity where you need to be out there in the great outdoors. If you're looking for an action-packed business, starting an activity centre offering a sport you're already passionate about could be a dream come true. If you're looking for a related business, but one that is less likely to get you wet, you could open a shop selling outdoor activity equipment instead.
Hobby fishing is huge in the UK. Whether people are going out on organised boat fishing trips or are fly or course fishing, it is undoubtedly a popular pastime. Whichever type of fishing they are doing, all these fishermen, women and children need tackle. One business option that would keep you dry and warm indoors while still being related to something you love is to open a fishing tackle shop.
For the lovers of a good, old-fashioned shoot'em up, there can't be much more fun than a day spent paintballing with mates. Catering for kid's parties, stags and hens, paintball centres have sprung up across the country. If you're looking for a business that offers a real adrenaline kick, opening a paintballing centre could be in your sights.
Confession time - I used to love going horse riding as a child. The rhythmic clip-clop of the horse's hooves. The tickle of the pony's whiskers has they nuzzle your hand for an apple and the warm smell of the stables. If I close my eyes, I can still picture it now. If you fancy something slightly more exotic, why not consider trekking with llamas and alpacas. If this all sounds idyllic to you, there are host of related business ideas you could explore. You could start a tack shop. You might open a livery stable. You could become a farrier or you might open your own horse riding and pony trekking business.
Golf was one of the first sports to re-open following the COVID-19 lockdown. After weeks indoors, golfers were keen to get back out on the greens - even if it meant some changes to the normal format. If you're a keen golfer, you could combine your love of the sport with your start up ambitions and open a golf driving range.
As an island country, there are plenty of us that love to indulge in one water sport or another. In the summer, we flock to the coast to spend the day enjoying our in our particular passion whether it is surfing, sailing, rowing, paddleboarding or scuba diving. Entrepreneurs looking to escape to the coast might consider starting a seasonal business in the form of a surf shop.
If you're craving the opportunity of working for yourself and are looking for something a little less 9-5 and a bit more action-packed or just love the great outdoors, these business ideas could be right up your street. But, if you aren't struck by any of these ideas, you can always check out the many other start up business ideas we have covered.