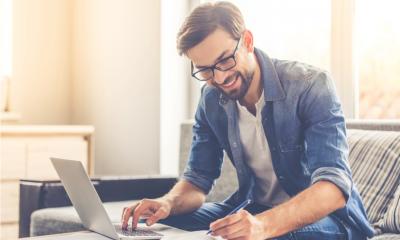 Kickstarting a new business that you can operate entirely from home is the dream for many people: You'd be your own boss, and you can stay dressed in sweatpants 24/7 if you really wanted to.
Of course, it can be tough to get started. You'll need to be driven, hard-working, and in touch with exactly what types of services and products can help you harness the power of the internet to drive hungry new customers to your website.
We can't help you with those first two things, but we've whipped up a list to address the last one. Here is a quick look at the top tech and software that can help a modern business get off the ground.
Budgeting tool: you need a budget
Keeping your budget under control is perhaps the most essential skill any small business owner needs under their belt. You Need A Budget is a software solution aimed at helping people set up and stick to a budget in their daily lives, but it can also help someone running a small business online.
With the spreadsheet-based software, you can always access your up-to-date finances. In fact, you're encouraged to, in contrast with other "set it and forget it" budget management tools. In time, you'll naturally learn the ins and outs of keeping your business in the black.
You can use the app on desktop, on mobile (iOS and Android both), and on iPad, and you can try it free for a 34-day trial period. After that, it's $11.99 per month or $84 a year.
Website builder: Squarespace
Practically every online business needs a website as a 'place' to direct customers towards. With Squarespace, you'll have a popular and cost-effective way to create and host a robust website — no technical skills required.
For a monthly fee, you'll get a full website with unlimited storage and bandwidth, trackable metrics, mobile optimisation, 24/7 support, a custom domain name and SSL security.

Squarespace offers a variety of plans, depending on whether your site is personal or for business purposes, and whether you're interested in selling products directly through the site. Costs can range from £10 a month to £30 a month. You should research which of Squarespace's price plans offers the features you need. No matter how much it costs, it's an industry-leading website builder that's well worth the cost.
Scheduling tool: ScheduleOnce
Meetings become more important as businesses scale up their client bases and expand their workforce. If you don't have a tool in place for scheduling meetings before you think you need it, you might find yourself falling behind.
ScheduleOnce is a feature-rich software solution designed for a variety of scheduling needs. You'll be able to schedule one-on-ones, team meetings, or across-team get-togethers regardless of which time zones participants are working in. It integrates natively with video conferencing brands including Zoom and GoToMeeting, as well. Plans cost $15 per month for up to three users or $10 per user per month for larger teams.
Invoicing software: Freshbooks
Billing and invoicing are another universal aspect of running an online business, although you probably don't need any lectures on the importance of getting paid. Freshbooks offers an all-in-one invoicing and accounting solution for fast-moving small businesses that need to ensure their bills are sent and received on time.
Freshbooks' cloud-based software tracks employee expenses (including timecard functionality) keeps files and feedback catalogued, and helps you compose professional-grade invoices in seconds. It'll accept credit cards as well, helping you get paid that much faster. Plans start at $7.50 per month.
Ecommerce: Gumroad
If you're taking the ecommerce route, Gumroad is a well-respected platform to consider. Get an account and you'll get access to a streamlined purchasing process that guides your customers down the sales funnel efficiently and pleasantly. The platform hosts your store, processes payments, and helps the customer get their purchase. You'll be able to sell digital and physical goods alike, and ongoing subscriptions are also supported.
If you're just dabbling in ecommerce, a Gumroad account can help you sell your homemade comic books or hand-knit scarves. Features include sales tax support, automatic address verification, country-specific deals, and custom SKUs, as well as custom shipping rates. Professional features are $10 per month, though the free version only takes a 3.5% + $0.30 charge on each sale.
Note-taking: Evernote
Many of the best entrepreneurs are addicted to note-taking. It's a way to generate ideas, capture thoughts, and document minor processes that eventually add up to bottom-line moving workflow improvements. With Evernote, you'll have all your notes in a single, constantly-synched location, no matter where inspiration strikes.
The service lets you share your notes easily, too, smoothly connecting you with whoever needs the information. It's a great way to distribute meeting notes or allocate projects. You can get started with the free tier, although the business features are available for a pricier $14.99 per user per month plan, at a two-user minimum.
Kickstarting your business
You may not need all the software we've listed here, but you're sure to find a few of them useful. Every business has built in processes like accounting, invoicing, budgeting and scheduling, and the faster you can streamline those processes, the bigger a head start you'll have on your competition.
Copyright 2020. Article made possible by Adam Rowe, writer at Tech.co Adam has worked as a tech writer, blogger and copy editor for the last decade, covering everything from podcasts to POS systems.