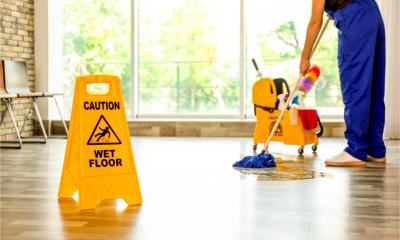 Starting your own cleaning business offers the flexibility to work the hours you want, choose your clients and be your own boss. In 2019, the UK cleaning market was worth an estimated £7 billion, and it looks set to have an even greater value in the future as a result of the COVID-19 pandemic. Google search volume for "book a cleaner" rose fourfold when lockdown measures were eased, demonstrating that homeowners and businesses alike are taking steps to improve their cleaning regimes in order to prevent the spread of the virus.
As such, now is the perfect time to get your business up and running. But before you do, it's essential you're aware of the costs, risks and responsibilities involved. Here are five key things to bear in mind as you get started.
1. The legal side
Making sure that the legal side of your business is watertight will ensure your company is correctly registered and won't fall foul of the law, keeping it sufficiently protected from the word "go". For instance, self-employed cleaners are technically classed as sole traders, so will need to register as self-employed with HMRC, and file an annual self-assessment tax return. This is important for ensuring that you pay the correct tax and National Insurance contributions.
While setting up your own cleaning business is exciting, it can be easy to lose sight of the risks involved. For example, a member of the public slipping on a wet floor or someone falling ill due to a cleaning product you've used. This is why insurance is essential, and one policy you should consider as a priority is public liability cover. This is especially important for cleaning businesses, as it will cover any costs resulting from workplace accidents that cause personal injury to a third party, or damage to their property.
If you employ any staff, you're also legally obliged to have employers' liability insurance to cover compensation claims and legal action made against your team. Having insurance in place not only protects your cleaning business, but also reassures clients that you're sufficiently protected, qualified to do the job, and will offer a reputable service.
2. The name of your business
What you choose to call your business is key for developing your branding and reputation and will ultimately be your company's most recognisable aspect. Before brainstorming ideas, explore the cleaning market, especially in the area where you're offering your services, so you can see which names have already been registered. This will prevent you from choosing a name that's similar to that of another business and will avoid any confusion or issues with Companies House.
When picking a company name, remember that it should reflect your brand and be related to the services you provide, while also being unique, memorable and catchy so that customers remember you. It must also be simple to pronounce and original. Easy ways to come up with a creative business name include using acronyms, tweaking the spelling, or even using your own name. However, if you're stuck for ideas, a business name generator will be a quick and easy way to get inspiration. Once you've found the perfect one, you'll need to use Companies House's name availability checker tool to make sure it hasn't already been registered.
3. The type of cleaning service you offer
There are three main forms of professional cleaning services: commercial, residential or specialised, and the one you choose will depend on your level of experience and expertise, as well as your interests. Commercial cleaning involves attending large properties, such as offices and shopping centres, often with a team of people. Residential cleaning will see you visiting client's homes on a regular basis to do your work. Specialised cleaning requires a higher level of skill in a specific area, such as window, carpet or upholstery cleaning, as well as more particular equipment.
If you're new to the industry, it's best to start with residential or commercial cleaning, as these will be easier to establish, and require just a few essential supplies.
4. Your budget and finances
Starting your own cleaning business can be fairly inexpensive, but there are things you need to consider to ensure that your costs won't spiral out of control. You should include your budget in your business plan — which will cover aspects like insurance, basic equipment and marketing — since your biggest expense will be the initial start-up costs.
When it comes to equipment, remember that it can be expensive. However, the type of cleaning services you offer will influence what equipment you need. For instance, a domestic cleaner only requires a few basic items, like a mop and bucket, cleaning chemicals and microfibre cloths, so the start-up costs will be minimal. However, commercial and specialised services may need more costly pieces of equipment such as professional steamers and cleaners. You may also require a business computer and phone to manage your company and communicate with clients, as well as a vehicle to take you and your equipment from job to job.
5. Marketing
In an industry as competitive as cleaning, a good marketing campaign is a must. You can promote your business in many ways, including social media, online directories like Check-a-Trade and Rated People, and even traditional advertising such as flyers. However, once you've established yourself a little more firmly, you will also be able to rely on word of mouth, and even consider referral discounts for new customers.
Your approach will depend on your target audience, as different people will respond to campaigns in different ways. Whatever strategy you settle on you should emphasize the unique selling points that set you apart from your competitors. A good marketing campaign is much more than being creative with your budget — it's about understanding and engaging with your target audience and being clear about what you want them to think, feel and do with regards to your service.
Copyright 2020. Featured post made possible by Darragh Timlin, current Underwriting Director for Tradesman Saver, who has more than 20 years of experience in the insurance industry.