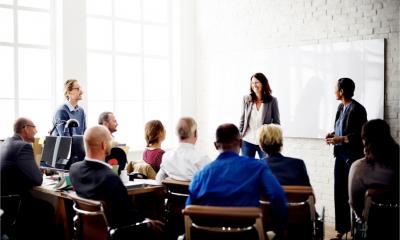 Who do you turn to for business advice? Perhaps you have a business coach or consultant. Or maybe your friends and family are your sounding board. Then again, your first port of call might be a trusty Google search or your favourite business blog. All these options are great and in combination can empower business owners to protect their well-being and run successful businesses.
But have you ever wondered if you should seek advice from other entrepreneurs just like you? Not just through reading an article, but through personal interactions where you gain value from their experiences, learn from their failures and plug their successes back into your business decisions.
In the wake of the COVID-19 outbreak and this 'new normal' we now live in, business owners must be fast and nimble in order to seize opportunities, rise above challenges and respond to changing times. Seeking the advice of other business owners who have also had to adapt and change could help your business stay ahead rather than being left behind.
You're probably thinking 'no-one will understand my business', or 'I should only seek advice from those in my industry.' Well, let us challenge you on that.
At first sight, the butcher, the baker and the candlestick maker don't seem the obvious companions for sharing business advice. But every business owner from every industry faces similar challenges and opportunities whether that is with people, sales and marketing or finances. Given our current climate, most entrepreneurs are in very similar circumstances within which they need support and impartial advice.
So, in what ways can small business owners learn from each other?
Use each other's strengths
Every business owner, in fact every person, has strengths and weaknesses. Think about your own. Are you good at knowing what your customer wants yet not so good at managing your finances? Or perhaps you excel at thinking of creative marketing strategies, but you find it hard work dealing with disruptive employees.
What's great about seeking advice from other business owners is that everyone has different strengths. You can utilise these to grow your own capabilities and fill in the gaps in each other's knowledge. This isn't the same as just reading a best practice business blog, this is advice coming from strengths and experiences tried and tested out there in the real world. Remember this is a two-way process, you learn from others, and they also tap into your experience and knowledge to help them in their businesses.
Evaluate new ideas
It's the nature of business that you have to adapt. In recent times, we have seen this more than ever. It is imperative that business owners understand the current climate and how their business will need to change to grow. That might be changing your offering or embracing the use of technology, but sometimes, it can be difficult to come up with growth strategies alone. With the help of other seasoned business owners, evaluating how different ideas might work for your business can be much easier. For example, it might be that another business owner had to make the same decisions right at the start of lockdown, and you are just a bit behind them. They could advise you on their successes and failures, helping you to make the right call.
Get an external perspective
Ever used the phrase, 'I'm too close to this'? Sometimes you are 'too close' to your business to see the obvious problems. This is where the external perspective of impartial entrepreneurs, and especially those who know nothing about your industry, could be invaluable. Approaching someone in the same industry, you could receive the same industry-led advice. Yet someone else might offer some unique, challenging and game-changing questions, allowing you to think outside the box.
Don't limit your business by keeping it all to yourself. Reach out to others who can give you actionable insights, provide that outside perspective and importantly, hold you accountable to do the things you commit to doing. It could not only do wonders for your business, but it can transform your work-life balance. Rather than trying to make all the decisions, learn from others and start making the right ones.
The Alternative Board exists to empower business owners in growing their businesses through peer advisory boards, executive coaching sessions, and a suite of strategic business tools.
Copyright 2020. Featured post made possible by The Alternative Board, helping business owners and leaders confidently see new opportunities and achieve their strategic goals. Get your free taster session.