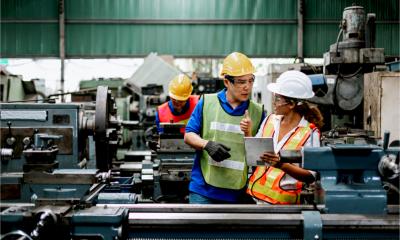 Companies in the technical sectors are often reluctant to outsource their recruitment. After all, does anyone outside of the company really understand what they offer? And will anyone be able to match candidates to the role?
Technical recruitment is one of the most demanding areas of recruitment. The pool of candidates is smaller, the jobs on offer are far more lucrative, and many of the roles are incredibly niche. But while it may be difficult, it's not impossible. To become a good technical recruiter, you need passion, drive and a willingness to get outside of your comfort zone.
In this guide, we will explore how Nolan Recruitment approaches technical recruitment and how you can become a successful technical recruiter.
Choose your niche
Technical recruitment might seem niche, but it covers a lot of sectors. This is why many choose to specialise further within this field. You might choose to focus on engineering recruitment or pick a specific industry, such as aerospace recruitment.
When you choose to specialise in one area, you allow yourself to become immersed in that industry. If you try to cover too many sectors, you could spread your attention and your talents too thin. Some technical recruiters cover multiple sectors, but this will often come with time and experience. At the start of your career, focus on one area to make a name for yourself.
Make connections
It's all about making connections. You make connections with employers and connections with candidates. So when the employer approaches you with a new role, you will already have a handful of people in mind for it. This technique will allow you to go beyond the job descriptions and checklist approach to recruitment and match candidates to opportunities based on things like culture fit and ambition.
Get out of the office
You aren't going to make any meaningful connections at your desk. Taking a backseat approach and simply waiting for the phone to ring is a great way to limit your career. Be proactive and get out of the office when you can. Visiting key employers in your field will allow you to develop relationships with the decision-makers. So when the time comes to advertise a new role or put together a team for a new project, yours is the first name that comes to mind. You already know the company structure and the culture, putting you one step ahead of the cold-calling recruiters.
Keep up with industry trends
Projects like HS2 are creating lots of technical roles, so you need to have a finger on the pulse of this development. You don't have to be an expert, but you should show some aptitude for keeping on top of the industry developments that will impact recruitment trends. For example, if you know a company is relocating to the area before anyone else, you can be the first in the door to introduce yourself. Keeping an eye on the relevant trade publications is all it really takes.
Keep in touch
The recruitment pool in technical roles is much smaller than other roles. Employers are looking for a very specific set of skills, experience and qualifications. This means that the right candidate for the role might already have a job, rather than actively looking for one.
Keep in touch with your candidates once they find a job to ensure you always have access to the best possible talent pool. Instead of relying on candidates finding the role and reaching out to you, you take a proactive stance. Candidates might be happy in their role, but you might also contact them at a time when they are keen to make a move.
Copyright 2020. Article was made possible by site supporter Paul Gordon of 720 Digital.