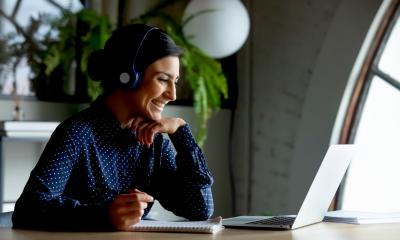 COVID-19 has completely changed the way teams work and interact. Managers are subject to greater pressure as they have had to learn very quickly how to lead teams effectively from home. Current or prospective managers could easily access training courses in person pre-pandemic, but many of these courses have had to be cancelled or postponed. In fact, here at MTD over 90 face-to-face management training projects were put on hold as a precaution after the Prime Minister announced the lockdown in March.
Despite this, the coronavirus crisis has encouraged training providers to transform the ways in which individuals can develop their leadership skills, largely through virtual management courses. These are essential for managers to equip themselves with the necessary skills to lead in a VUCA (volatility, uncertainty, complexity and ambiguity) environment.
Management training is still important
Despite most digital and office-based businesses having to work remotely, the demand for management training was still apparent as the number of webinars and virtual training sessions we ran skyrocketed.
Managing a team remotely is very different to doing so in person, and leaders will find themselves tackling new challenges. Many leaders have never experienced this kind of scenario before and so their previous leadership style and skills might not be suitable. For instance, how you previously brainstormed, communicated and planned projects might not work without everyone in the same room.
Fortunately, training providers have adapted their management training courses to take into account remote working. These courses include topics such as:
how to lead people and keep them motivated throughout COVID-19
how to be productive
mental health and resilience
how to avoid micromanaging your team
how to run virtual meetings
communication skills
These are all incredibly important things to consider when managing a team during a pandemic. We discovered one of the most important topics was supporting mental health and wellbeing, as well as helping staff build resilience skills in order to manage their own emotions and create strong working support systems. These aren't topics typically found on our 'normal' management course, but they have emerged from the need to help businesses adapt to the new landscape.
Businesses have to utilise virtual learning in the face of COVID-19
Virtual learning methods such as e-learning and webinars were already popular pre-pandemic, with 98% of companies expected to use e-learning tools by 2020. However, the coronavirus crisis has increased this uptake as businesses had no choice but to provide virtual learning resources. In fact, learning through online courses can help increase collaboration between teams who are working from home or in different time zones, enabling them to connect virtually through video call platforms.
According to McKinsey, some managers are considering migrating their existing in-person training into permanent digital formats. Arlo's research into the impact of COVID-19 on the training industry showed there was a 285% increase in live online courses being scheduled by training providers in March, compared to February. While Google searches for 'online courses' doubled in these recent months.
The future of online management training
Post COVID-19, some managers and training providers may stick to providing virtual training sessions as these can be more cost effective, accessible through most devices and can be more suitably adapted to a flexible work/life balance. Arlo's research also revealed that more than half of respondents expect there to be a greater demand for e-learning and blended learning in the future, while 70% believe training will continue to be delivered through online courses.
And while virtual courses have been a hit with clients, it's mostly due to there being no alternative for the time being. In fact, since a large majority of individuals would rather wait for in-person events to start again than enrol on a virtual course, we're aiming to try to reopen our face-to-face courses as soon as we can. However, this is always subject to change in accordance with government guidelines.
Copyright 2020. Featured post made possible by Sean McPheat, the Founder & Managing Director of MTD Training and CEO of MTD Training Group, who has provided award-winning development programmes to businesses for over 19 years.