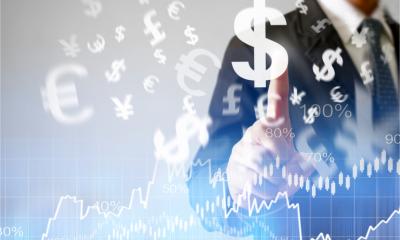 International trade by UK SMEs is growing by leaps and bounds, and so is the need for cheaper business foreign exchange. The majority of small and medium businesses today use banks for transferring money abroad or getting payments from international customers. Unfortunately, this means they usually do not get access to corporate FX (foreign currency exchange) services. Those are mostly restricted to big corporate and VIP bank clients. As such, SMEs are losing a hefty part of their profit in bank fees and FX costs.
But today, there is an alternative method of business money transfer that is cheaper and also provides SMEs with benefits that help reduce risks. Such services might be the solution that helps many businesses survive during this terrible economic crisis.
Small business costs of foreign exchange and money transfers
Making business money transfers is a daily necessity for the majority of entrepreneurs. Money transfers can be as diverse as accepting payments from customers, paying suppliers or even paying your office utility bills.
However, many business owners often overlook just how much these transactions end up costing. For example, bank fees for outgoing international transactions range from £8 to £40. For domestic transactions, the cost is lower. But you need to remember that every kind of bank action has some kind of fee.
And, when it comes to business foreign exchange, it's not only the fee that matters. Banks also use high FX margins, which you don't get to see as a customer. This means that every international transaction costs you a lot more than the aforementioned £8 to £40 fee. That's because you will lose money on currency exchange during transfer. By the end of it, the cost of a transfer might reach 7% of the total transaction value.
Another important issue to consider when contemplating corporate FX is hedging. The problem with banks is that they usually only offer hedging options to big VIP clients. Therefore, SMEs usually don't have access to these invaluable tools.
However, it's essential to remember that businesses face many risks by default. If you are going global in any way, you will also add a currency risk to that list. Without hedging, you could lose your entire projected profit overnight.
All it takes is for FX rates to change unpredictably, which they do often, especially in volatile economic conditions. That's why you need professional help with business money transfers and FX management as well as hedging tools to protect yourself. And today you can get both, as well as cheaper cost of business foreign exchange from an FX company.
Why business money transfer companies are cheaper
To put it simply, FX companies, or as they are sometimes referred to money transfer companies, can offer cheap business foreign exchange services for two main reasons:
They have low overhead costs.
They trade in currency wholesale.
Unlike a bank, FX companies operate mostly online reducing many of their overheads starting with office space. Moreover, these companies make local transfers with no money actually crossing borders. You transfer money to the company's account in your country, making one cheap local transfer. Then, the FX company makes another local transfer to the recipient in their country.
This is how they manage to keep business money transfer fees so low. In fact, some of the leading companies, like OFX, charge no fees for the majority of transactions.
However, the biggest advantage for SMEs is that these companies aren't restricted by stringent regulations. That's why they are able to offer cheap corporate FX services to any business regardless of its size. This is also why they can complete what is basically a wholesale foreign currency exchange.
With no restrictive regulations, they have a lot more flexibility and opportunity to cut their own costs. The result is that an FX company is also able to use lower FX margins. Therefore, the rate they offer is closer to mid-market, which benefits you as a customer.
However, it's very important to understand that not all money transfer companies offer corporate FX services. Only companies with a so-called corporate desk can provide this kind of service. Therefore, SMEs need to choose their business money transfer providers very carefully. The leaders in this industry today are WorldFirst, OFX, and Moneycorp.
Additional corporate FX services SMEs Can Get
Another important thing you need to consider when choosing an FX company is what services it offers besides business foreign exchange. As a small or medium business owner, you need to pay attention to:
Hedging tools
Currency guidance
Some FX companies offer advice on how to manage corporate FX services and use them to benefit your business best. This isn't a skill an average SME owner would have by default. And you can't learn it after reading a few articles online.
FX markets are volatile at the best of times, and FX rates can change drastically in response to major events. For example, the crash of GBP after the first Brexit announcement was record-breaking. But that was somewhat possible to predict even for non-professionals.
On the other hand, fluctuations in emerging market currencies rates in the recent crisis are much harder to forecast. Therefore, all businesses selling to or importing goods and materials from developing countries are at a huge risk. Even experienced professionals find making FX market predictions extremely difficult. As such, guidance from experts is essential for all businesses that want to come through this latest crisis intact.
Invaluable FX hedging for business foreign exchange
Without a doubt, the most important service that you should look for from your business money transfer provider is hedging tools. They are the best method to protect yourself from FX volatility during a business money transfer. Hedging can help a business plan its budget and forecast its revenues more accurately. This is also your protection against extreme changes in FX rates. Most importantly, this type of safeguard is highly cost-efficient. Thus, even if expected shifts in FX rates do not happen, you won't suffer massive losses.
The most popular hedging tools that SMEs can use through an FX company are:
Forward contracts
Limit orders
FX options
Stop loss orders
However, using hedging tools requires skill and a good understanding of the global FX markets. This is where currency guidance services come in. Companies with a corporate FX desk usually have a dedicated agent working with each customer to ensure they get the best service.
How much money do you really save with an FX company?
The most obvious savings from using corporate FX companies' services come from low rates and fees. An average overseas bank transfer might cost you anywhere between 3-10%, on average. The exact amount is affected by the destination, currency pair, bank, and any additional services involved.
When using the services of an FX company, the cost should be 1-3% of the total transfer volume. Some companies today offer options as low as 0.25%. Many of them charge no fees or keep them very low. Also, don't forget that the higher your business foreign exchange volume, the lower the cost will be for you. This is not always the case with banks.
In some situations, you might even get to exchange your funds at a mid-market rate. This alone can offer substantial savings for a small business.
However, you also need to consider that FX companies help you save money in other ways as well. These benefits are harder to calculate and measure. They include:
Opportunities you get for being from or selling to countries that were prohibitively expensive due to transfer costs before. This means you might be able to expand to new markets.
Reduced losses due to currency hedging.
Opportunities for overseas investments you can use for accumulating side income.
Paying salaries to overseas employees and freelancers. This might allow you to hire more qualified staff or even keep your business running regardless of any lockdowns.
Also, bear in mind that today many people, both prospective customers and employees, might be more open to using FX companies for money transfers. Online sellers, in particular, should consider this as these companies easily integrate with merchant platforms and enable you to offer more competitive prices. For a small online shop this might be a life-changing advantage.
Conclusion: The impact of cutting business money transfer costs for SMEs
Every business owner understands that reducing costs is one of the key factors in increasing profitability. Considering the unprecedented scope of the current economic crisis, this is also paramount for business survival.
Using an FX company to help you cut the costs of business foreign exchange is a method that's often overlooked. However, the savings it offers should not be ignored under these circumstances.
The banking industry is outdated as it is, so using alternative business money transfer services is not merely a way for you to save money. This can increase your business productivity and open new opportunities for expanding overseas.
Copyright 2020. Article was made possible by site supporter Kate Bregovic