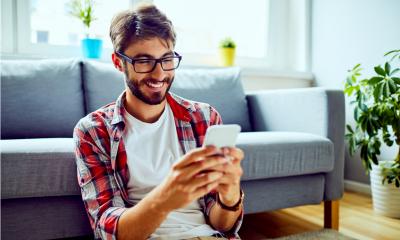 Do you often feel like you spend too much time on your smartphone? Well, you needn't feel guilty about it as there are several things you can do with your phone to earn some extra spending money. Whether you're saving up for something specific, want to earn some cash towards your monthly expenses or just want to treat yourself more often, there are loads of great things that you can do from your phone to increase your monthly income without leaving your sofa or bed. Here are some things you can do from your phone to boost your earnings.
Refer a friend schemes
Check if your mobile network has a refer-a-friend scheme. You could earn some extra cash if a friend or relative signs up after being introduced to the network by you. If you're looking for a new phone network, Lebara is an excellent choice with a range of SIM-only plans and the option to earn cash referring a friend. This means if you're a Lebara customer and you refer a friend, Lebara will give you cash when they sign up, but they get double the amount of data as well!
Mobile surveys
Companies need to gather customer feedback on a huge range of things and there are plenty of apps that you can download to earn money by answering a series of questions. You might be asked about your shopping habits, where you prefer to buy your clothes from, what you've been watching on TV recently, how often you shop online, or your experience the last time you ate out in a restaurant - the opportunities are endless.
Apps like Curious Cat are a great choice with the option to cash out to your PayPal account after earning just 100 points which adds up to £1. Surveys vary in length and point value and there are new ones being added every day.
Sell your stuff
If you're looking to declutter your home, you can make some extra money from selling your unwanted items using your smartphone. You can easily sell unwanted gadgets, DVDs and games to companies like Money Magpie, list unwanted furniture for sale on eBay, sell clothes you no longer wear on Depop or post anything and everything you no longer on Facebook Marketplace. There are plenty of different selling apps to choose from and most allow you to list an item for sale in minutes. All you need to do is take some pictures using your smartphone, write a short item description and set a price.
Get rewarded
If you use your phone to watch videos, play games, and listen to music, don't do it for nothing! Apps like Swagbucks are great for rewarding you for doing all kinds of random things on your phone from making Google searches to trying out new games, listening to the latest music releases or catching up with online videos. Viggle is another great app that you can download which will reward you for watching advertisements and music videos from your smartphone. You collect points which can be redeemed for gift cards and vouchers for some of your favourite stores.
Test stuff
If you love trying new things, you should definitely download apps like UserTesting and FeaturePoints where you can sign up to try new things like gadgets and games. UserTesting will set you up with new apps and websites to test and when you give your opinion and feedback, you can earn points that can be traded for gift cards for some of your favourite brands like Amazon and iTunes.
Take photographs
If you enjoy photography and have invested in a smartphone with excellent camera capabilities, don't waste all those features taking photos of your food for Instagram. You can download an app called Foap; a stock photography company that pays you for high-quality photos of absolutely anything taken with your phone. All you need to do is upload your photos to the site and you'll get paid every time somebody buys one. They also run regular competitions where they look for certain types of photograph, which is great if you're up for a challenge. You could be in with a chance to win a big cash prize.
Call abroad for free
If you've got friends or family who live overseas, don't waste money calling them using your precious minutes. Even if you have international calls included in your phone plan, these will run down really quickly if you want to talk to them frequently. Save money by calling your overseas friends and relatives using your Wi-Fi connection. You can use WhatsApp, Facebook Messenger, or FaceTime (if you both have iPhones) to make online calls for free using Wi-Fi or data if you have unlimited data.
Cashback apps
Download cashback apps like Quidco and Topcashback to your phone and you'll never have to pay full price for many things again. Whenever you need to make a purchase, whether you're looking for a new outfit for a night out or need to get a new car insurance policy, check out the cashback apps first to see if you could earn some of what you spend back. There are loads of generous offers available with some companies offering a percentage of what you spend back and others which give you with a set amount when you sign up for a product or service.
Student discounts
If you're currently studying at college or university, don't pay full price in shops when you could be enjoying a student discount. Apps like UniDays can be downloaded to your phone so that you can easily check if there is a discount available wherever you are shopping. All you need to do is sign up using your student email address to verify your student status and you're good to go. Before you buy something, search for the brand on the app and if there's a student discount available you'll be provided with a discount code to use online. You'll also get a virtual student card that you can upload your photo to so that you can take advantage of student discounts when shopping in-store if you don't have your student card with you.
Round up the pennies
While it won't make you any extra money, some banking apps can help your income stretch further by providing a feature that allows you to round up the pennies into a savings pot every time you spend on your card. Monzo is an increasingly popular online bank with loads of handy features to help you save more. Every time you spend, it can be rounded up to the nearest pound and the extra pennies are put away into a separate savings pot - and they can add up more quickly than you realise.
What are your favourite ways to make, save or manage your money from your phone?
Copyright 2020. Featured post made possible by Isabella Goode