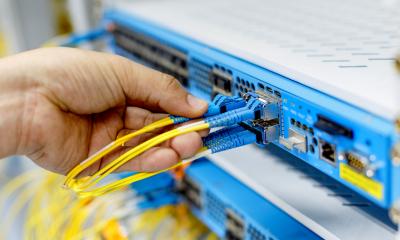 More start ups are waking up to the fact that using a business broadband connection, rather than a residential service, is beneficial to their business. But many owners are still cautious about switching provider.
This is partly because starting a business is rarely cheap. The accumulated costs of starting up can soon mount. Many entrepreneurs have to buy or lease a vehicle to get started. Then there's the various insurance policies to pay for and the cash required to cover rent and utilities. Often, this all has to be paid for before the business opens its doors and long before the owner starts to see the business generate a profit.
Unsurprisingly start up owners are keen to keep their costs down. Many of them make do and do not hire a secretary or accountant. They also tend to stick to using a residential broadband package. This is understandable - it saves money. And it works out fine for most firms, at least initially. But at some point most firms will find it makes sense to switch to a business broadband contract.
What is the difference between residential and business broadband?
First, let's look at the differences between the two services. Understanding this will help you to see the wisdom of switching broadband service and provider.
Faster and guaranteed speeds
Businesses normally pay more for their service, so broadband providers prioritise them over other customers. Providers dedicate a significant percentage of their bandwidth for the exclusive use of their business customers. This means you benefit from faster speeds. At a practical level, this translates into fewer lost connections during important VoIP or video calls, as well as faster file uploads and downloads.
Better customer support
The level of support and responsiveness is significantly better for business customers than it is for residential customers. Providers know that businesses cannot turn a profit if they have no internet connection and cannot serve their customers. So, they commit to solving the problems of their business customers quickly. Business broadband packages will come with a robust service level agreement guaranteeing everything from minimum uptime to maximum response times in the event of a technical problem.
Additional tech support
Some contracts include additional tech support providing you with the ability to speak to someone about any tech-related issue either over the phone or via an online chat. Access to such advice can help you solve problems more quickly and make better choices.
Working out when it's time to switch
As you can see, there are significant benefits to switching to a business broadband package. So, as soon you are making enough money to cover the additional cost it's worth investigating. You will be able to do everything much more quickly and will no longer have to worry about letting your customers down because you do not have a stable connection. Plus, when your business does take off you will be ready to respond. And by making the move now, you won't have to try and make the switch when you're too busy and could do without the disruption.
Make sure you choose the right provider
There's no doubt a business broadband package is better than a residential connection. So, it makes sense for you to switch at some stage. But you will still need to shop around and find the right service for your start up.
The package should meet all of your needs now and in the future. To help you pick the right provider and package we suggest you read this comprehensive guide to switching broadband provider. It covers everything you need to know about comparing broadband deals, how to check the contract details as well as how to handle the transfer to your new provider smoothly. Afterall, the last thing you need is to try and run your start up without an internet connection for a few days, or worse, a few weeks.
Copyright 2020. Article was made possible by site supporter heygoodmorning.co.uk