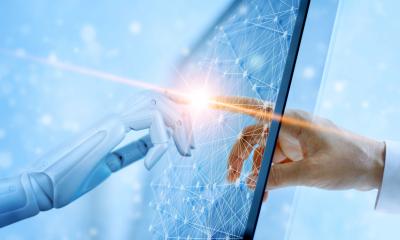 Businesses implement a variety of tools to improve performance and fuel business growth. Automation is one such tool that helps companies to save time and money, reduce repetitive tasks and run more smoothly.
Basic automation that supports smoother business operation
With the advancement of technology, more and more companies have decided to automate their processes. About 40% of large businesses use at least one automated process, while 25% of small companies report the use of automation. These businesses use modern and comprehensive solutions to replace manual, repetitive tasks with automation. Automation plays a role in almost all industries from virtual assistants in the customer service sector, algorithmic trading in the financial trading industry, and robo-advisory in the financial services sector.
The use of automation helps streamline business processes, control costs and increase efficiency. It is an efficient way to drive business growth and expansion, without wasting resources, time, money and efforts on mundane tasks. There are several forms of basic automation that can help your business including:
Automation of customer support
Businesses can use automation to improve the customer experience and their customer support systems. The most widely used automation tool for improved customer experience includes the use of virtual assistants and chatbots for customer service. It is estimated that at least 85% of customer service interactions in 2020 will occur through chatbots.
Although only human experts can solve complex situations, automation can be used to answer common queries with minimum human intervention and in less time. It reduces business costs and makes it easier for customers to ask for help when needed.
Auto-reply to emails and personalised marketing
Automation makes it easier for customers to contact you and also makes it easier for you to reach out to your clients. Automation can be used to send personalised marketing emails to clients and make the most of email marketing campaigns. It can also be used to respond instantly to queries from potential customers, improving lead conversions. Additionally, automation can also be used by businesses to reply to emails automatically, making the senders feel heard and important. An automated email process removes a lot of burden from your marketing team's shoulders, letting them concentrate on more valuable functions.
Process orders automatically
Growing businesses can feel a lot of pressure when the volume of customers and orders start to increase. The human capital of many new businesses may not be enough to handle a high volume of orders during their initial phases. This is where automated order processing lends itself to the smooth functioning of businesses. Automated order processing allocates orders to the appropriate departments and makes the process less error-prone, less time-consuming, and more organised.
Use of automation in social media
Automation can work exceedingly well for businesses looking to beef up their social media following. Business owners can set up automated systems to increase their visibility on social media platforms, gaining more fans and followers, and directing more customers to their business. It can also gather a wealth of data from users on social media and convert the data into useful information. Automation can help you keep track of social media mentions of your business' products and services and respond to them, expanding brand awareness.
Generating repeat business
Automation also plays a critical role in generating repeat business. The software encourages customers to repeat their orders through timely emails and reminds them about their abandoned carts. It also alerts them when a credit card on their subscription is about to expire. Thus, automation supports the exponential growth of businesses by bringing back old customers time and again, in addition to adding new customers.
How does automation benefit businesses?
Overall, automation is a great tool for businesses of all sizes to help them run their operations more smoothly. The most significant benefits of automation include:
Reduced operational costs: Automation tools cost less than their human equivalent helping businesses save a lot of money in salaries and other operational costs. Companies do not lose potential and existing customers and can continue to grow and expand at lower costs. It's an intelligent approach to increase the profitability of businesses by reducing costs.
Increased productivity, efficiency, and reliability: The growth of a business puts more demand on existing systems. Some early-stage businesses may not be equipped to handle the additional demand and may end up losing customers. Automation balances out the work and increases the productivity and efficiency of the operations. It also makes the process more reliable as it is handled by reliable software.
Improved collaboration: Automation helps streamline the various aspects of a business and puts the different moving parts together smoothly. Multiple projects, people, and departments can collaborate and streamline their communication to generate better outcomes.
Conclusion
Basic automation helps business owners organise operations, save costs, and improve efficiency and productivity, leading to the smooth running of the businesses.
Copyright 2020. Article was made possible by Moneyfarm.