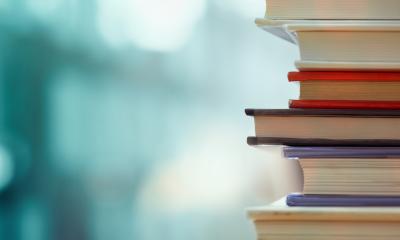 With the 'new start' of 2021 just around the corner, now is the perfect time for business owners to seek advice and inspiration from the experts with knowledge and insights to share.
So, we asked the users of the Donut websites to recommend business books that have helped them in 2020.
As you will see, one of the books was even described as 'life-saving'.
There is something for everyone, with books on psychology, workplace culture, creative success, and leadership, including lessons from some big business names.
No. 1 Sunday Times Business bestseller, by the former European Vice President of Twitter and host of the UK's number one business podcast Eat Sleep Work Repeat. As the title suggests, The Joy of Work explores ways to make work life more enjoyable. With some interesting insights into workplace culture, Daisley debunks workplace stereotypes and provides some great tips on the everyday changes that could lead to a happier workplace. Unlike so many business books, Daisley focuses on how to be happy in your work life as opposed to focusing on 'success' factors such as performance, efficiency and growth.
Nichola Johnson-Marshall, co-founder of coaching and training consultancy Working Wonder: "If anyone wants a progressive view about the modern workplace and how it's evolving, I recommend you read The Joy of Work. It also includes practical tips about how to adapt and thrive in the new working culture. Ironically this book was published pre-lockdown, so a top tip from me is to also subscribe to his podcast and email newsletter as he provides even more current reflections on the workplace via there too."
Renowned Stanford University psychologist Carol Dweck's book is all about achievement and success, with decades of research to back it up. Although not strictly a business book, Mindset explores the impact your mindset has on overall life – in sports and relationships as well as in business. Success in all things is accomplished through the power of our mindset – whether it's a fixed or growth mindset. One reviewer even thanked the author "for saving my life and my marriage".
Martin Norbury, scalability coach, author and ex-CEO: "The key to success when getting your business ready for scale, and throughout the entire scale journey, is to have a growth mindset. Without this, you will remain stagnant at best. I recommend all my clients to read Carol Dweck's Mindset because she explains why it's not just our abilities and talent that bring us success, but whether we approach them with a fixed or growth mindset."
Personal development experts Helen Tupper and Sarah Ellis reveal the five skills you need to master when working in the 'squiggly career' era. The Squiggly Career acknowledges that career paths aren't what they were 50 years ago. People are no longer getting jobs for life, but rather jumping between roles and ventures in what can be both a thrilling and daunting journey. This book is perhaps all the more relevant in the wake of Covid, which has disrupted so many careers.
Kathryn Emmett, sustainability consultant: "I was recommended The Squiggly Career by a friend and it appeared in my life exactly at the right time. I was having a major wobble after coming straight off maternity to furlough to redundancy and deciding on my next step. I was in a confidence and career pickle and the job applications were wearing me down no end. It provided me with the tools to find clarity on what I was capable of and what I wanted, giving me the confidence to put my best foot forward and start up my own consultancy. I recommend it and their brilliant podcast to everyone!"
In a world where machines can work more and more efficiently, New York Times bestselling author Brene Brown offers her answer to the question "What does man have over machine?" Her answer is courage, empathy and leadership. After decades of research and working with small start-ups all the way up to Fortune 50 companies, Brown summarises that everyone is after the same thing – daring leaders. Her book aims to help readers learn to be more courageous and choose courage over comfort and reap the rewards.
Joanna Ceri Hall, head of talent, resourcing and people operations at Start with Data: "Dare to Lead is rocking my world (I even listen to it while on my rare dash to the supermarket) – the fact that values are values, and are not separated by work and personal life. I love the coverage around clear is kindness and I'm totally implementing this with both work and husband!!!"
With his 'The Entrepreneurial Operating System®' Gino Wickman claims he has the simple solution to maximising business success. Aimed at entrepreneurs and business leaders, Wickman's guide gives readers tips on strengthening the key components of any business and improving the focus and happiness of your leadership team.
Tim Watson, professional EOS implementer™ at Traction Six: "Traction is a practical guide for how to run a great entrepreneurial business and enjoy a better life. Traction explains a simple set of tools and disciplines that together make the Entrepreneurial Operating System. It helps entrepreneurs clarify vision and achieve that vision with a discipline of accountability. I've worked first-hand with businesses running on EOS and have witnessed how it creates strong, profitable and frustration-free businesses. In fact, over 10,000 entrepreneurial companies have already fully implemented EOS and it's growing rapidly."
This is a business book for creatives, by the founder of Akimbo workshops. Author Seth Godin believes there is no such thing as writers block. With a focus on the value of consistency The Practice teaches readers to take risks in their pursuit of turning their creative ambitions into a career.
Antonia Taylor of Antonia Taylor PR: "Seth Godin's The Practice is about all the excuses, blocks and stories that stop us from shipping the creative work we care about - and how to break through these. The godfather of modern marketing, Seth pares The Practice down to simple, consistent acts: build 'streaks' (a continuous output), do the work, show up daily. I loved how this book speaks to the artists in all of us - blending that with commercial applications and frameworks. It's a book about trusting yourself and your creative process - and the most Seth of all the many I've read. Treat yourself."
How Google Works by Eric Schmidt and Jonathan Rosenberg
A book by two former Google executives who helped build Google into the global success that it is today. How Google Works gives readers the opportunity to be the fly-on-the-wall at one of the world's most famous and successful companies. It encourages readers to relearn what they know about management and reveals "how Google innovates and how it empowers employees to succeed".
John Conlon, head of digital & innovation, Capgemini Middle East: "An interesting insight into the world of Google, written by its ex-CEO. Gives an idea on how such a large and complex organisation functions, and especially interesting on how they hire and manage their people. May not be a ground-breaking business book, but peeks enough under the covers to make it an enjoyable read."